By Phylicia Laramore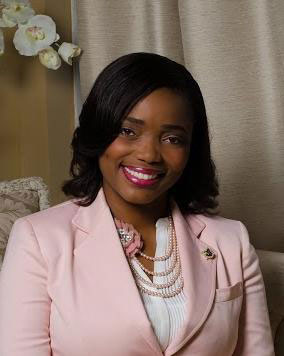 Nassau, The Bahamas – Under the distinguished leadership of its new president, Ms. Alana Ingraham, the Eta Psi Omega Chapter of Alpha Kappa Alpha Sorority Incorporated is set to Flourish in 2014.
'Flourish,' the theme chosen for 2014-2015 focuses on Community Leadership; Sisterly Strides; Healthy, Wealthy & Wise programs; Internal Leadership Development and the celebration of Women on the R.I.S.E. As this new administration takes the lead of global leadership through timeless service the chapter promises to vigorously serve The Bahamas.
Providing insight of her administration's plan, Ms. Ingraham shared, "As we look around our country and international community there is no better time than the present for our members to be of Service to All Mankind. Through our service projects, community initiatives, workshops and mentorship programs we pledge to do our part to address crime, health issues and social ills that are plaguing our country. We will continue to advocate for social justice and human rights with a keen focus on human trafficking, voter empowerment, children of incarcerated parents, domestic violence and sexual violence awareness. By virtue of our commitment to the ideals of our sorority and the needs of our communities we will do our best to serve with excellence."
The Eta Psi Omega chapter also seeks to continue initiatives such as the annual Honours' Day scholarship program that has recognized top graduating high school female students for over thirty (30) years; the Emerging Young Leaders mentorship program, that focuses on leadership development and character building for young ladies in grades six (6) through eight (8) and Global Poverty programs to end hunger, preserve the environment and empower women.
On the heels of celebrating its 50th anniversary in 2013, the Eta Psi Omega Chapter is well positioned and poised to usher in the next 50 years and beyond, fostering sisterhood, scholarship and service in The Bahamas. With such a strong foundation, the chapter will continue to Flourish within the surrounding community and soar to new heights.
The new executive officers of the Eta Psi Omega Chapter 2014-2015 are as follows:
President: Alana Ingraham
1st Vice President: Contanza Adderley
2nd Vice President – Asheka Culmer
Secretary: Neutalya McDonald
Treasurer: Stacia Major
Recording Secretary: Tami Francis
Public Relations Officer: Phylicia Laramore
Corresponding Secretary: Vanessa Miller
Nominations Chair: Shaundra Curtis
Parliamentarian: Saynia Webb
Hostess & Sergeant at Arms: Samantha Culmer Kemp
Chaplain: Ryan Albury
Protocol Officer: Anastarcia Huyler
Historian: Vonya Albury
Membership Chair: Carla Reckley
Standards Chair: Drew Bartlett
Connections Chair: Sam Anderson
Graduate Advisor: Ida Poitier-Turnquest
Educational Advancement Foundation Captain: D'Asante Beneby