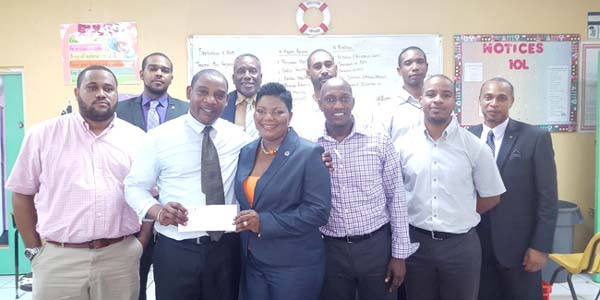 Nassau, Bahamas – The partnership between Lodge C. R. Walker and The Bahamas Technical and Vocational Institution (BTVI) was recently strengthened. The lodge has provided the school with additional funds to assist C. R. Walker High School students who qualify to attend BTVI.
The students are chosen based on academic merit, financial need, field of study and personal qualities, inclusive of leadership skills and commitment to community involvement.
In 2014, there were three recipients of the scholarship. The recipients are expected to maintain at least a 2.75 Grade Point Average (GPA) each semester, perform 20 hours community service while completing their programs and assist with mentoring other males at C. R. Walker High School.
Worshipful Master, Brother Brandon Johnson presented the cheque to BTVI's Associate Vice President of Fund Development, Mrs. Alicia Thompson during the first meeting of the mentorship program at the school for the new academic year.