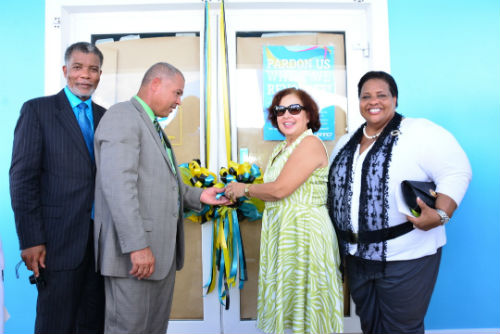 NASSAU, New Providence – The Bahamas Telecommunications Company (BTC) has been further developing, improving and expanding the BTC network to transform the entire country into a connected Bahamas. Every day their work demonstrates this commitment to bring telecommunications to the entire Bahamas, including High Definition (HD) Internet Protocol Television (IPTV) service.
In December, Bimini became the first island to have BTC TV. Long Island will be the second island to begin testing BTC TV services. Scores of Long Islanders are scheduled to receive the service before the end of February. Other islands in the pipeline include Inagua and Cat Island; New Providence will close out the list after completion of the Family Islands.
Long Island Government Administrator Terrece Bethel-Bootle, one of the very first testers in Long Island reported that after just a few days of testing, she is very impressed and happy with BTC TV.
"Hundreds of channels it seems, great picture and reliability so far. Cable Bahamas works in some spots on Long Island but only offers the Basic package, and Satellite is very expensive because it comes through a third party. We are all looking forward to having BTC TV available here island-wide," said the administrator.
BTC CEO Leon Williams foreshadowed the BTC test programme for the Southern Islands whilst opening the new BTC flagship store at Deadman's Cay, Long Island last September. Local MP the Honourable Loretta Turner gave remarks at the event and expressed her thanks and excitement with the opening of the new store in her constituency and the coming of BTC TV.
"It is a very sore point not having effective television services here. So we hope that the BTC TV beta testing is done very quickly so that every Long Islander will have the opportunity and the capacity to know what is going on, not just in our country but all around the world."
Mrs. Eldri Ferguson-Mackey, BTC Vice President, Marketing, Brand and Communications said yesterday that BTC TV will be country-wide by close of 2015 providing over 150 channels with better value and pricing than the current provider.
"Our next stop on TV's march through the Family Islands is Long Island. TV will be available throughout The Bahamas by year's-end. BTC is the first company to provide this service although Cable Bahamas has had a license to provide television services to the entire country since 1995. The neglected South East islands will soon have comprehensive television services for the very first time.
"We will offer more channels than Cable Bahamas and feature a channel line-up of local, international and regional content. The service provides over 150 channels many in high definition. BTC TV will also offer video on demand, digital music channels, DVR, parental controls, and its own BTC channel."
BTC's television offer is a part of the company's $65m investment to upgrade its existing networks, and enhance its ability to provide new services on its platforms. As the national telecommunications company, BTC offers a full suite of ultra-modern landline, broadband, mobile and television services.