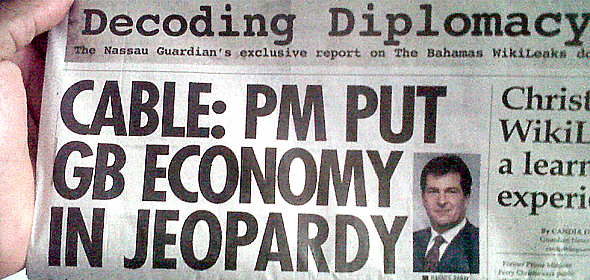 Cable: PM put GB economy in jeopardy
JUAN McCARTNEY
NG Senior Reporter
juan@nasguard.com
Prime Minister Hubert Ingraham's decision not to renew the work permit of former Grand Bahama Port Authority (GBPA) Chairman Hannes Babak at the end of 2009 placed Freeport's economy in "jeopardy" and possibly stalled several major projects planned for Grand Bahama, claimed a classified diplomatic cable obtained by The Nassau Guardian through WikiLeaks.
Babak's work permit was not renewed after it expired on December 31, 2009.
Ingraham publicly announced the decision about Babak's work permit earlier that December.
According to the cable, which was classified on December 18, 2009, Babak asked the U.S. Embassy to help change the prime minister's mind about the work permit.
The embassy official Babak reportedly spoke to remained "noncommittal", according to the cable.
The GBPA was the subject of a bitter, protracted ownership dispute between Sir Jack Hayward and the family of the late Edward St. George.
In December 2009, Babak was in negotiations to sell Sir Jack's significant stake in the GBPA to Mid-Atlantic Projects (a U.S. company).
The cable stated that the embassy felt that Babak's ultimate departure, "…could result in further delays in Grand Bahama's development just as the expected sale to Mid-Atlantic had sought to jump-start progress."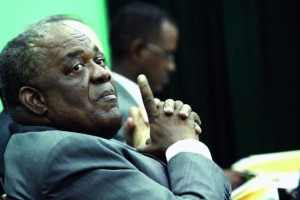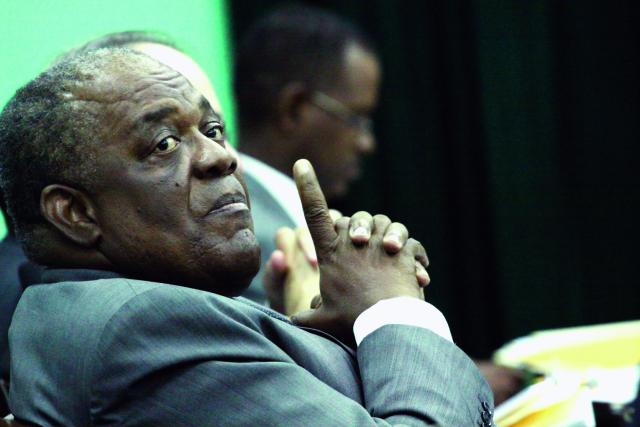 The Mid-Atlantic deal fell apart in April 2010.
The embassy official claimed that the refusal to allow Babak to continue to legally work in the country was, "likely made out of anger at Babak's move not to obtain Ingraham's blessing before moving forward with the Mid-Atlantic deal as well as a not-so-discreet desire to increase Chinese involvement in Grand Bahama's development plans through Hutchison-Whampoa (a Chinese company with major business interests in Freeport)."
During the time Babak was seeking renewal of his work permit, he was in the midst of brokering several deals with major U.S. companies intended to help alleviate Grand Bahama's economic woes.
The embassy official said Babak's removal, "(put) into jeopardy ongoing negotiations with major U.S. firms to bring liquid natural gas (LNG) re-gasification facilities and other badly needed commercial ventures to the country's second largest city, which suffers from nearly 15 percent unemployment."
There were also several other deals reportedly in the works with U.S. entities — including energy and medical care companies — that Babak was overseeing at the time.
One deal under negotiation involved the establishment of an offshore, ship-based Liquid Natural Gas (LNG) re-gasification plant and on-shore LNG storage facilities operated by Texas-based Excelerate Energy and Virginia-based AES, the cable noted.
"The arrangement would enable electricity delivery services via underwater cable to Florida Light and Power as well as Bahamas Electricity Corporation (BEC)," justified the cable, which also cited possible savings for BEC if the deal was to go through.
The status of that deal is unclear.
The cable further stated that Babak was negotiating with a U.S. hospital construction company to build a facility in Grand Bahama that could have been worth up to $100 million.
Reported renewal conditions
The cable said Babak was called to a meeting with then Minister of State for Immigration Branville McCartney at the Office of the Prime Minister sometime in June 2009, shortly after Babak's work permit was submitted for renewal.
The cable further claimed that McCartney explained that the government was only prepared to renew Babak's work permit past that December if he met four conditions: settle the ongoing GBPA ownership dispute; treat Bahamians fairly; compete fairly with Bahamian companies and not stand in the way of the construction of a cruise port terminal in Williams Town.
In a January 2010 interview with The Nassau Guardian, the prime minister acknowledged that McCartney was sent to meet with Babak and tell him the conditions under which his work permit would be renewed.
Ingraham did not disclose those conditions. He said he was surprised that some people were surprised by his announcement about Babak's work permit.
Babak told an embassy official that Ingraham was in favor of Chinese company Hutchison-Whampoa purchasing all of Sir Jack and the St. Georges' shares but told him "any legitimate buyer was fine," according to the cable.
The GBPA remains unsold to this day, though there is talk that a foreign entity is interested in purchasing it.
The cable said Babak interpreted one of the conditions the government placed on renewing his work permit at the end of 2009 as "a demand to promote [the relative of a high-ranking government official] to [a senior post in] the Port Authority,"
The embassy official claimed Babak refused to promote the person, who he claimed was "not qualified for the position."
As far as the third reported condition, the cable claimed Babak said the government had an "inaccurate" perception that he was involved in a conflict of interest as far as the granting of contracts from GBPA to a company to which he had previous financial ties was concerned.
The embassy claimed Babak said McCartney appeared "uninterested" in seeing any proof to the contrary.
Austrian-born Babak told The Freeport News in December 2009 that he owned no businesses in Grand Bahama and was in the process of trying to sell his shares in the Freeport Concrete Company.
As far as the Williams Town port is concerned, the cable said that Babak had "publically advocated for the terminal to be located (there) because no reef existed there."
Even though the U.S. Embassy refused to get involved, the official characterized Babak as a "long-time supporter of U.S. commercial interests in The Bahamas (who) would continue to do so if he stayed in his current role."
In his interview with the Freeport News not long after Ingraham's announcement, Babak said it was his hope that the prime minister reverses his decision, but would continue to do what he thinks is best for Grand Bahama no matter what happened.
"I like to live in Freeport," Babak said a year-and-a-half ago. "I am a Grand Bahamian resident.  I have a house here that was the house of my dad and after he passed away it became my house.  It would be my wish to live and work here."
Numerous attempts to reach Babak were unsuccessful.  The prime minister did not return a request for comment up to press time.