Bacon's Save the Bays has legal threats of arrest against the Prime Minister Christie – Members of his group also called the Bahamian police "Terrorists"!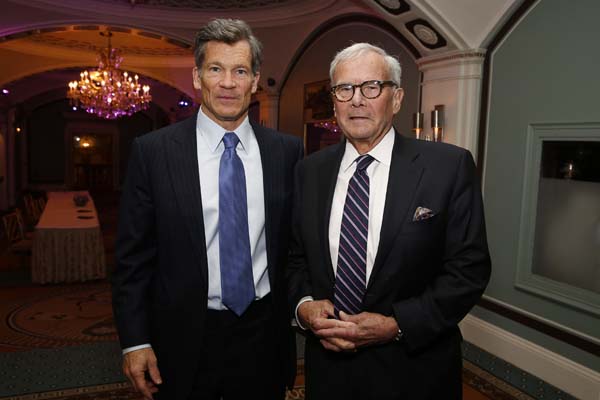 Save the Bays would now do anything through the courts to JAIL the Prime Minister of the Bahamas and the head of CARICOM! Boy, dis some shit eh? And we right here celebrating these people!
New York, NY – May 28, 2015 – The Foreign Policy Association (FPA) held its annual dinner on May 21, 2015 where it presented three distinguished honorees with the Foreign Policy Association Medal, including Louis Bacon, Founder, Chairman and Chief Executive Officer of Moore Capital Management, LP and President of The Moore Charitable Foundation, Inc.; Lee C. Bollinger, President, Columbia University; and Alan Gilbert, Music Director, New York Philharmonic. Additionally, Claudio Descalzi, Chief Executive Officer, Eni Spa was presented with FPA's Corporate Social Responsibility Award.
The Foreign Policy Association Medal recognizes individuals demonstrating responsible internationalism and who are working to expand public knowledge of international affairs.
Past recipients include the Honorable Michael Bloomberg, Mayor, New York City; Timothy Geithner, Chairman, Federal Reserve Bank of New York; and Kevin Rudd, Prime Minister, Australia.
Legendary NBC Nightly News anchor Tom Brokaw introduced honoree Louis Bacon, commending Bacon's stewardship on climate change: "There are two fundamental concepts we should keep in mind – to be proactive citizens in our own country, and to be global citizens. I can't think of anyone of his generation who has that in his every waking moment than the man we are here to honor – Louis Bacon." Brokaw added, "I am so reassured to know that he is taking his place in the forefront of this extraordinarily important challenge."
Upon receiving the Foreign Policy Association Medal, Louis Bacon commented, "I wish to thank the FPA for this great honor. Our Foundation is privileged to support great environmental causes and join in conservation activist campaigns."
Bacon continued, "Our commitment spans across North America and internationally. In particular, we have supported conservation efforts to save threatened land and marine areas in the Bahamas – a place I care deeply about and which has felt like my second home over the last twenty-five years."
As the principal public forum in New York City for foreign policy addresses, the FPA attracts broad national and international attention. Through its annual meetings program and World Leadership Forum, the FPA gives members access to discussion and debate on the most critical issues facing America today.
Honoree Lee C. Bollinger said, "The world has changed, just in the past decade, in ways that are just as significant in the post WWII era. The main changes driving it are the issues to be addressed – we can no longer leave climate change or global economic governance simply to countries to solve. Every university has to have some alignment with the outside world and has a significant role to address issues in the unique way we do. As a global university, hopefully Columbia University can be the home for that broader effort."
With support from The Moore Charitable Foundation, the FPA has also convened a Task Force on Climate Change to make recommendations for a North American strategy to abate global warming and make climate change a priority for U.S. foreign policy.
The FPA Annual Awards Dinner presents an opportunity to honor individuals for their work in the foreign policy process and release findings from the FPA Task Force on Climate Change – continuing the FPA's 97-year history as a catalyst for developing awareness and understanding of U.S. foreign policy and global issues.
About the Foreign Policy Association
Founded in 1918, the mission of the Foreign Policy Association today, as it has been throughout its 97-year history, is to serve as a catalyst for developing awareness, understanding and informed opinion on U.S. foreign policy and global issues. Through its balanced, nonpartisan publications and programs, FPA encourages citizens to participate in the foreign policy process. To learn more about the Foreign Policy Association, please visit www.fpa.org.
About The Moore Charitable Foundation
Louis Bacon is President of The Moore Charitable Foundation Inc. (MCF) and chairman of its affiliate foundations. Founded by Bacon in 1992, MCF supports conservation nonprofits that focus on protecting threatened landscapes, habitats and water bodies. MCF also supports educational and community programs in specific geographic priority areas.