Da wickedness exposed!!!! Having praise and worship while getting teens drunk and putting dey hands down da churrin pants….what is dis happening in da Bahamas?
caption id="attachment_101991″ align="aligncenter" width="640″]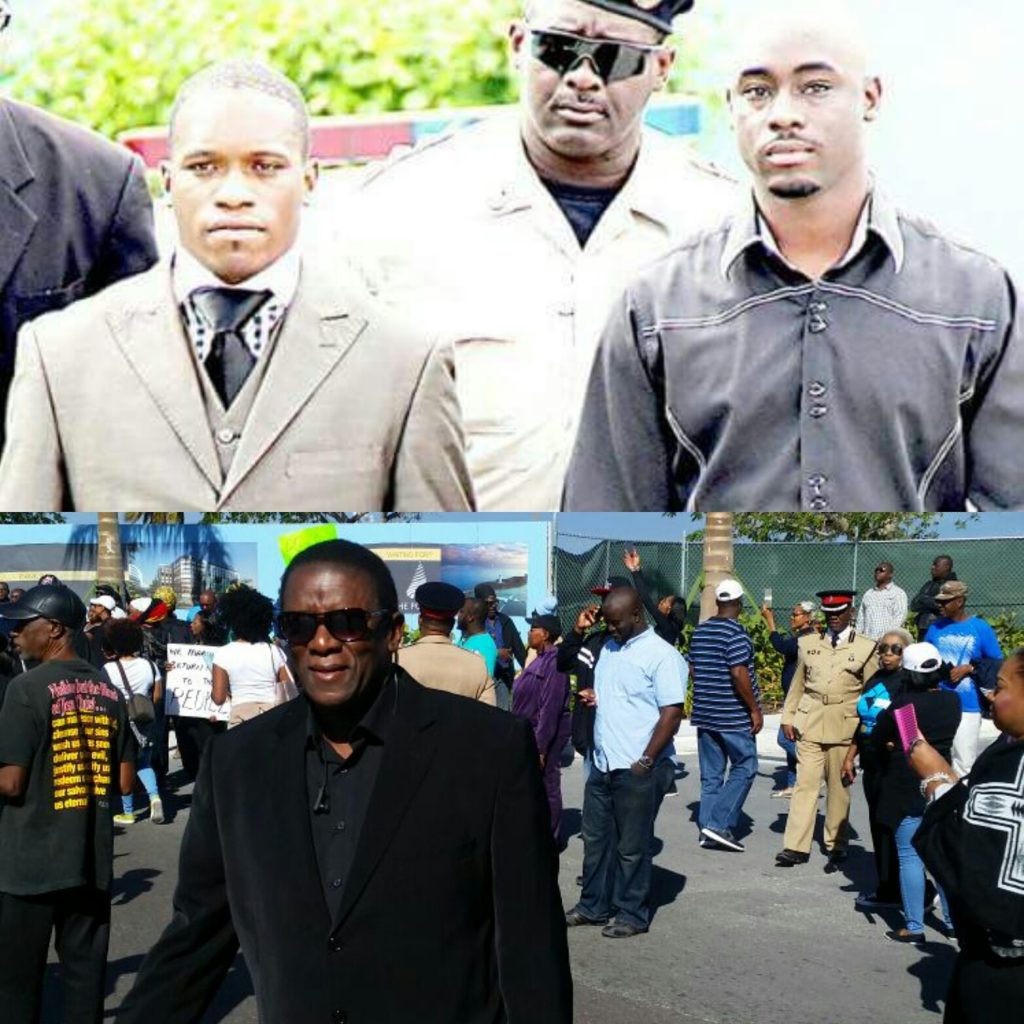 Hanchell's two pastors found guilty! Hanchell shown here on Da John Bostwick BlackMarch…[/caption]
By LAMECH JOHNSON
Tribune Staff Reporter
ljohnson@tribunemedia.net
TWO ministers will return to the Magistrate's Court next week for sentencing, having been found guilty by a magistrate on Friday concerning allegations that they gave a 15-year-old boy liquor to get him drunk.
Arsenio Butler, 30, and Devin Sears, 28, appeared before Magistrate Andrew Forbes to learn if their denial of wrongdoing had been accepted by the magistrate concerning an incident alleged to have occurred between January 31, 2014, and February 1, 2014.
Both faced a count of "child cruelty" where it was alleged that they gave a teenage boy alcohol "in a manner likely to cause injury to his health".
They were convicted of the charge and will face sentencing on January 24, which could see them face a fine and/or imprisonment.
Butler, a pastor-elect, had been separately charged with indecent assault, after it was alleged that he put his hand down the teenager's trousers. Both pleaded not guilty to the charges in their first Magistrates Court appearance in February 2014.
Magistrate Forbes, in October 2015, determined that a sufficient case had not been made by the Crown for Butler to answer to the charge of indecent assault when considering the second of two statements given to police by the complainant.
The alleged assault was only referred to in the second statement. During testimony, the complainant and police were at odds about where the statement was taken.
The magistrate discharged Butler of the assault charge.
However, the court ruled that Butler and Sears must answer to the remaining charge of "child cruelty" based on the evidence produced by the prosecution.
In a 12-page ruling handed down on Friday, Magistrate Forbes, in recalling their evidence, noted that their defence was not convincing.
"The defendant Butler recounted, having spoken to the virtual complainant's mother, offering to take him out, he noted that it was late but the virtual complainant remained adamant he still wished to go out," the magistrate said.
"That he obtained the assistance of Mr Sears and that they left and went to the residence of Mr Sears so that he could change and return to church to collect money and then onto McDonald's restaurant and then to a drive-thru he thought was a convenient store where they obtained juice. He denied that he ever caused the virtual complainant to chug any alcohol or anything for that matter. He suggested that the virtual complainant was making very scurrilous remarks about his teachers at school and school mates and he wanted to keep the young man engaged.
"There was blanket denial under cross examination to any suggestion offered. Likewise, the testimony of Mr Sears mirrored that of Mr Butler and again a blanket denial of any wrong doing, or observing any wrong doing. He also suggested the virtual complainant was leading them on the drive as he nor Mr Butler were familiar with the streets of New Providence."
Magistrate Forbes ruled that "the evidence of neither Mr Butler nor Mr Sears to be convincing".
"If one accepts all they have said, two adult men elected to transport a minor out after 11pm. It is clear they were irresponsible. And then suggest that the minor was somehow leading them in this foray. The evidence of the virtual complainant coupled with evidence of the virtual complainant's mother and the opinion of the doctor suggest that he was plied with substances which caused the effects that were observed," the magistrate said.
"This court accepts the evidence of the virtual complainant that he was given alcohol by these two individuals, the reasons are unclear but this court accepts that he was provided the substance by Mr Butler and Mr Sears," Magistrate Forbes ruled before convicting of them of child cruelty.
The matter was adjourned to Tuesday, January 24 to allow their lawyer Romona Farquharson-Seymour an opportunity to present character reference and a plea in mitigation on their behalf.
Cordell Frazer, of the Office of the Attorney General, prosecuted the case for the Crown.