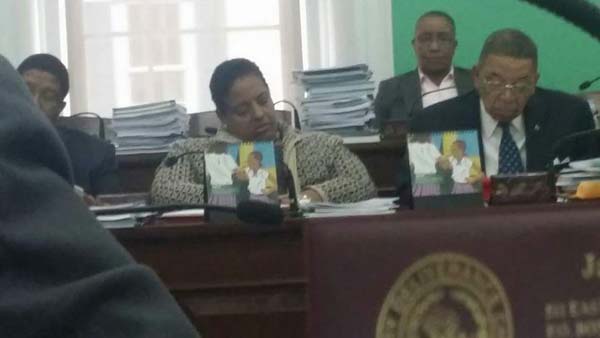 BY Gladstone Thurston
Long Island, Bahamas: FNM Long Island candidate, Adrian Gibson, launched his election campain in the north Long Island town of Glinton's last night (Jan 20), drawing a full house.
Making a surprise appearance at the meeting was Senator Jude Knowles, among other prominent Long Islanders.
Senator Knowles who hails from the town of Mangrove Bush was among four senators appointed recently by renegade MP, and Leader of the Opposition business in Parliament, Mrs Loretta Butler-Turner.
Earlier, Mrs Butler-Turner, the incumbent FNM Long Island MP, and six other MPs had invoked the Constitution of the Bahamas and had FNM leader, Dr Hubert Minnis deposed as Leader of the Opposition in Parliament. She assumed the post; he remained leader of the FNM.
Long story short, Mrs Butler-Turner had her nomination as FNM Long Island candidate rescinded, and Gibson, a lawyer, nominated in her place.
According to reports circulating in Long Island, Mrs Butler-Turner intends to contest Long Island again.
It is uncertain whether she will contest as a DNA, whom she has been courting, or in coalition with any of the other disparate groups arrayed against the governing PLP.
"I am encouraged," said Gibson. "Long Islanders are ready for real change. This time must be Long Island's time
"Once elected, I will do the best I can to bring that about."
Meanwhile, the PLP is yet to nomimate a candidate.