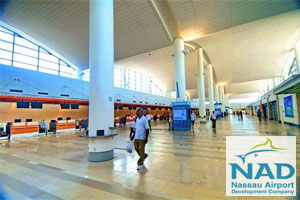 Nassau, Bahamas – Airports Council International (ACI) recently announced LPIA as the recipient of the 2013 Airport Service Quality (ASQ) Award for Best Improvement By Region: Latin America-Caribbean category. The award recognizes extensive improvements made to the airport during a three-phased, $409 million redevelopment at LPIA
Vernice Walkine, President & CEO at Nassau Airport Development Company (NAD), received official word of the ACI survey results last week. "This award shows that our efforts to totally transform LPIA into a modern and functional facility are being noticed. To be recognized for what we've been able to accomplish in four short years of construction will help motivate our team to move from building amazing terminals to managing them at a world-class level."
LPIA also ranked in the top five "best airports" in the region (Latin America and the Caribbean). The airport management company is setting an aggressive goal of scoring within the top three airports in the region by the end of 2014.
David Adams, Manager of Customer Support Services is leading the charge along with the Operations team at NAD.
"Since implementing the ASQ survey program, we've seen steady growth and improvement in overall customer experience at our airport despite conducting business while active construction was taking place," Adams said. "Our intent is to see LPIA ranked as one of the top three airports in the region by the end of 2014. To do this, we need to zero in on meeting customer service targets, improving overall ambiance in the terminals and getting the complete buy-in of our airport stakeholders."
As the industry's most comprehensive customer service benchmarking tool, the ACI ASQ survey reliably captures passengers' immediate appraisal from check-in through departure at the gate at more than 285 airports worldwide. These awards represent passengers' views on 34 key service indicators and are an objective and accurate indicator of the top world-wide performing airports.
NAD implemented the ASQ survey program at LPIA in 2011.