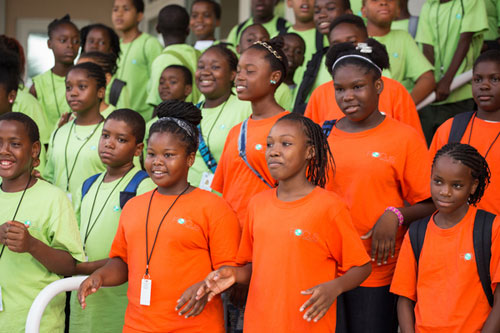 Nassau, Bahamas – Tuesday, July 29 marked the fourth annual FOCUS Summer SLAM Open House – a chance to see the programme in action. An initiative of Lyford Cay Foundation, FOCUS is a tuition-free, school enrichment programme that sets primary school students on an eight-year path to college and career success. Lessons take place during the school year and for 30 days in the summer.
Just over halfway into the Summer SLAM, the Open House welcomed donors, students' family members, education officials and other supporters to an All School Rally, student panel and classroom tours at The College of The Bahamas.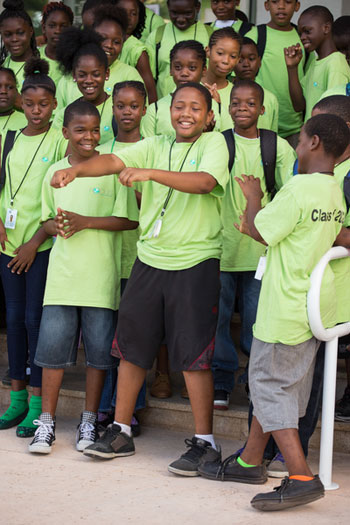 This year, FOCUS is serving 152 students in grades 5 to 8, who have been working together in small groups to complete projects that demonstrate this summer's theme, 'information.'
Students going into grades five and six have been tasked with creating websites that communicate feasible waste management solutions for New Providence. Similarly, students going in grades seven and eight have been charged with using Geographic Information Systems (GIS) technology to map an efficient bus route system for FOCUS students.
Jasmine Roker, a sixth grade student from T. G. Glover Primary School, who has been in FOCUS for two years, said the programme has given her a helping hand in her studies.
"FOCUS has helped me in school. The things I didn't know, FOCUS picked me up and helped me with them. And FOCUS teachers teach me different things," she said. She added: "The best part about being in FOCUS is that I get to meet new people and also I get a boost to learning."
Students are recruited in fourth grade from public primary schools in New Providence's north-western district (East Street through to Bain and Grants Town and up to Gambier Village). It is FOCUS' mission that through additional educational support and enrichment activities, these students will be the first in their family to attend tertiary learning institutions.
Olivia Johnson, the mother of Amile Johnson, a fifth grade FOCUS student, has seen first-hand the programme's accomplishments.
"For me the best part is his mind is constantly going. He's constantly thinking; he's learning more, and I'm learning because he's talking about all the biomedical waste and all that. So whatever he's learning here, he's bringing it home and it's challenging him, because he's says to me, 'Oh, mummy I never knew about this'," she said.
The College of The Bahamas has generously donated the use of its facilities and as such all FOCUS programming takes place on the Oakes Field campus. To find out more about FOCUS, visit www.lyfordcayfoundation.org/focus