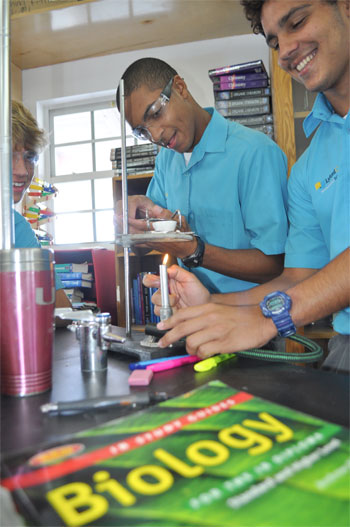 By Gillian Watson
Nassau, Bahamas – As part of the International Baccalaureate (IB) Diploma Programme, Lyford Cay International School (LCIS) students in Grades 11 and 12, complete an Extended Essay of 4000 words. Strong performance on this essay in combination with strong performance in the Theory of Knowledge course can result in up to three additional diploma points.
In May 2013 LCIS students recorded their highest ever achievement in additional diploma points performance for the Extended Essay averaging 1.94 diploma points, far exceeding the global average of 1.15.This significant difference between the LCIS average and the global average is part of a four year trend linked to the introduction of a taught course in advanced research skills. This course occurs once per week from January to September in grade 11. As part of this advanced research skills course, the 2013 students were the first group to be able to travel to the University of Miami where a librarian taught them the skills of using a university library. This year LCIS hopes to be able to carry out the University of Miami research trip in collaboration with Lucaya International School.
Recent LCIS graduates reflected on the impact of the extended essay process on their university experience.
Alicia De Jong(Class of 2013), who is in her first year at Calvin College, did her Extended Essay in the field of geography. She explored the issue of gender disparities in the outcome of secondary and post-secondary education in The Bahamas. Alicia wrote: "Our trip to the University of Miami not only aided me in my Extended Essay research, it was also great preparation for college. I now feel comfortable using the library system at my own school. There's a great advantage in being familiar with resources such as academic journals. In my summer course, I was showing other Calvin students things I learned on the Miami trip"
Felicia Taylor(Class of 2011) who is studying at the University of Richmond, did an Extended Essay in biology. In this essay, she captured a number of brown anoles to explore the question of whether sexual ecomorphism exists within the species. Because LCIS has a number of portable digital microscopes, she was able to analyze differences in the toe pads of the anoles. According to Felicia: "Doing the extended essay introduced me to many of the techniques that I'm using in my third year ecology class like finding population densities, organism measuring techniques, and statistical tests."
Issa Saunders, (Class of 2011)is now studying at Yale University. For her Extended Essay, Issa evaluatedthe economic factors that prolonged the privatization of the telecommunications industry in The Bahamas. According to Issa "The extended essay was extremely valuable in that it was my first taste of self-guided research that is typical of university work. Because the Extended Essay was undertaken over such a long period of time it enabled me to gradually get more comfortable with the kind of work I am now expected to produce on a regular basis. "
Lyford Cay International School (LCIS) is one of 218 schools worldwide that is a fully accredited International Baccalaureate (IB) school. The aim of all IB programs is to develop internationally minded people who, recognizing their common humanity and shared guardianship of the planet, help to create a better and more peaceful world. For more information on LCIS please visit www.lcis.bs