'This man has done more for the Bahamian Economy'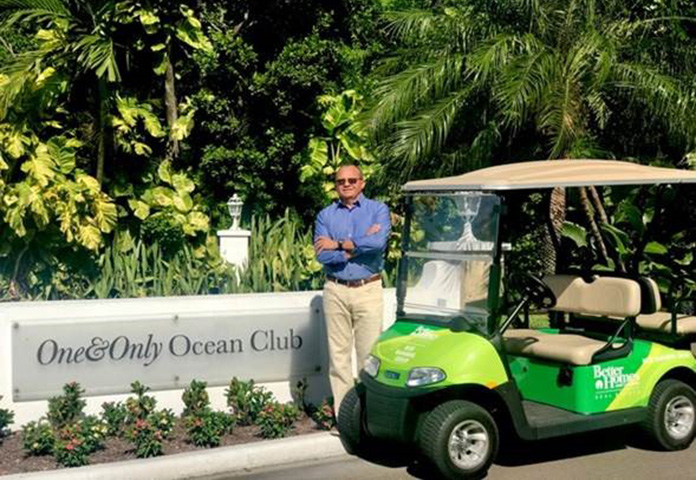 With growing calls to recognise those who have made a difference in The Bahamas, leading luxury real estate broker Mario Carey today said the man he would like to nominate for Heroes' Day in October 2018 might come as a surprise.
"He is neither Bahamian by birth nor has he taken centre stage in politics but probably no one has made a greater impact on the national economy and international image than Sir Sol Kerzner, the founder of Atlantis, the One & Only Ocean Club, and creator of Ocean Club Estates. Sir Sol Kerzner put a modern Paradise Island on the map. I believe it is time that the Bahamian people honoured him for his vision, his belief in The Bahamas and his investment in this country at a time when it was desperately needed."
Carey said he had been thinking about how best to organize an honour for the influential hotelier for some time, but last week's news that the One & Only Ocean Club would be re-branded a Four Seasons increased the urgency.
"The One & Only Ocean Club was pure Sol Kerzner, remodeled with immaculate attention to detail and style," said Carey. "Even after ownership changed, the image that Sol Kerzner created persisted. If One & Only Ocean Club, the last vestige of Kerzner as a hotelier, does re-brand as announced, we owe it to this remarkable individual to let him know how much has meant to The Bahamas over the last quarter of a century."
It was the early 1990s, said Carey, when Kerzner first looked at the hotel properties on Paradise Island and where others saw cracks in the walls, outdated buildings and signs of despair, he saw potential. Over the next 20 years, he would pour more than $1 billion into renovations and new construction, creating more than 7,500 jobs, becoming the country's largest private employer and second only to government in total numbers. Kerzner's investments in training and marketing are unparalleled in the country's history.
"Without the vision of Sol Kerzner, it is hard to say where our tourism industry would be today. The man is not only a visionary of extraordinary proportions, he is also a hands-on operator, personally examining every detail and insisting on training standards the likes of which we had never seen before in mass market tourism," said Carey. "He opened doors and created opportunities for so many Bahamians and I am one who was fortunate to be among those whose lives are better because of him."
Carey, who holds a B.A. in real estate from Florida State University and the highest certifications in luxury property, has handled more than 135 transactions in Ocean Club Estates, including sales and purchases for all of the Kerzner family. In 2015, after more than 25 years in the business, including the presidency of his own firm, he launched the first international franchise of Better Homes and Gardens Real Estate. A triathlete and father of a son diagnosed with Asperger's, the highest functioning form of Autism, he has been a strong supporter of R.E.A.C.H. and instrumental in garnering government support for persons with special needs.
"All of us have personal history that drives us to become what we are," said the real estate giant who has handled more than $2 billion in transactions. "Some rise to the top, making a difference along the way. Sol Kerzner was one who made the greatest difference in the economy and while he was not a nation-builder in the traditional sense of the word, he helped build a nation that the world recognizes for its beauty, warmth and hospitality."
Kerzner was knighted by the Queen in 2010. Now 82, the South African born hotelier maintains a residence in Ocean Club Estates, though the properties he nurtured have since changed hands.