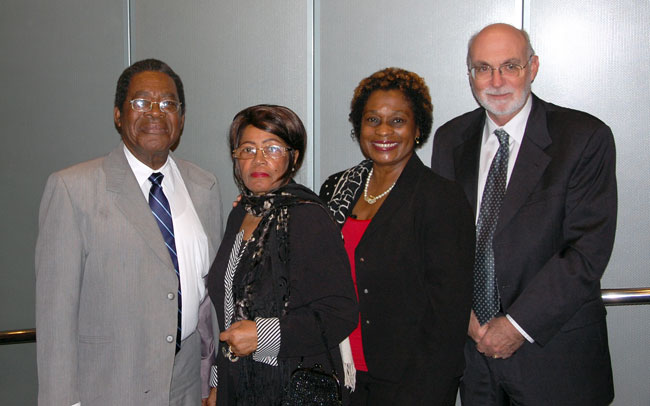 By Oswald Brown
WASHINGTON, D.C. — In honour of International Women's Day 2014, the Permanent Mission of Canada to the Organization of American States (OAS), the Permanent Mission of The Bahamas to the OAS, and the Inter-American Commission on Women co-sponsored a screening of Marion Bethel's "Womanish Ways" on Tuesday night, March 11, 2014, in the theatre of the Embassy of Canada, 501 Pennsylvania Avenue, N.W.
Ms. Bethel was a "special guest of honour" for the screening of her acclaimed documentary on the history of the Women's Suffrage Movement in The Bahamas.
Addressing the audience prior to the screening, His Excellency Allan B. Culham, Permanent Representative of Canada to OAS, emphasized the importance of International Women's Day, noting that it "is really important that once a year we should reflect together on the empowerment of women and women's rights and what has been accomplished, but also more importantly on the barriers and what challenges to overcome that still remain."
"It is important that we all stop for a moment to reflect on where we have come from and, more importantly, where we are going," Ambassador Culham said. "So it is in that spirit that we are here tonight to honour this wonderful film."
His Excellency Dr. Eugene Newry, Bahamas Ambassador to the United States, and Ms. Hilary Anderson, Gender Senior Specialist with the OAS' Inter-American Commission on Women, also gave brief remarks prior to the screening of the film.
Dr. Newry, who is featured prominently in the documentary, described it as "a momentous film" that "I think you will be quite impressed with."
In her remarks, Ms. Bethel said the film was a "labour of love," adding that she was "very honoured to be here at the Embassy of Canada to show this film and share it with you."
Providing the audience with a background to the film, she highlighted historical aspects of the Suffrage Movement and the involvement of women in the political struggle that led to majority rule.
Following its screening, the audience gave documentary a resounding ovation.
Dedicated to the heroic struggle of Kate Moss and Mary Prince, two enslaved women who fought for their freedom in the 1820s in The Bahamas, the one-hour and 10 minutes documentary narrates the story of the Suffrage Movement in The Bahamas, with special attention to the five women who founded and/or led the movement: Mary Ingraham, Mabel Walker, Eugenia Lockhart, Georgiana Symonette and Dame Dr. Doris Johnson; the voices of the women who stood shoulder to shoulder with the leaders, and the men who supported women's right to vote in the halls of Parliament.