WHAT HAPPENED: Tido had beaten his victim black and blue, bruised her. Crushed her skull and then burned parts of her body to concealed evidence!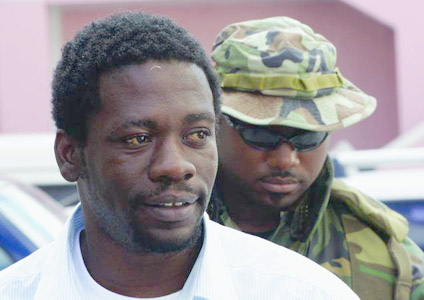 And the Privy Council says "THIS WAS NOT THE WORST OR THE WORST! My GOODNESS!!!
Nassau, Bahamas — Murder convict Maxo Tido and his lawyer, Glendon Rolle, had appealed on grounds that the 60-year-sentence imposed in a re-sentencing was unduly severe and asked the court to reduce it by more than half.
Rolle had argued that the new sentence should run from the date of the appellate court's decision on the matter, which when combined with his client's 10 years or more on remand, would fall within the 30-60 year range for murder sentences set out in previous decisions.
Yesterday, Justices Stanley John, Abdulai Conteh and Neville Adderley, found that sentence imposed on Tido "did not consider the categorisation by the Privy Council that this murder was not a case of the worst of the worst".
The judges added that the "probation report on the appellant contained prejudicial matters, such as the preference of the victim's mother suggesting a long term of imprisonment and the sentence of death, initially imposed upon the appellant, ought to be carried out".
The judges allowed Tido's appeal and substituted the 60-year sentence with one of 40, which would take into account the eight years spent in prison before re-sentencing in 2012.
"We are satisfied that this term will meet the considerations of deterrence, retribution and punishment necessary in this case," the court ruled.
On March 20, 2006, a jury convicted Tido of murdering Donnella Conover in 2002. Her body was found off Cowpen Road, battered and bruised and her skull was crushed. Evidence also revealed that parts of Connover's body were burned after her death.
A month after his conviction, then Senior Justice Anita Allen ruled that the crime committed by Tido warranted the death penalty.
The decision came days after the Privy Council in London ruled that the mandatory death sentence in place up to that point in The Bahamas was not constitutional.
In 2009, the Committee for the Prerogative of Mercy decided the law should take its course, as Tido's case was not one that warranted mercy.
However, he appealed to the Privy Council, The Bahamas' highest court of appeal, which ruled that the killing did not warrant execution. Consequently, he had to reappear before the Supreme Court for re-sentencing.
In March 2012, then-Senior Justice Jon Isaacs, gave Tido 60 years. This was reduced to 52 years considering the time Tido had spent on remand.
PS: Bahamas Press has been banned off Facebook for the next 28 days. For all breaking updates, news reports and up-to-the-minute news log on here at www.bahamaspress.com. join us on twitter or instagram for breaking news report….