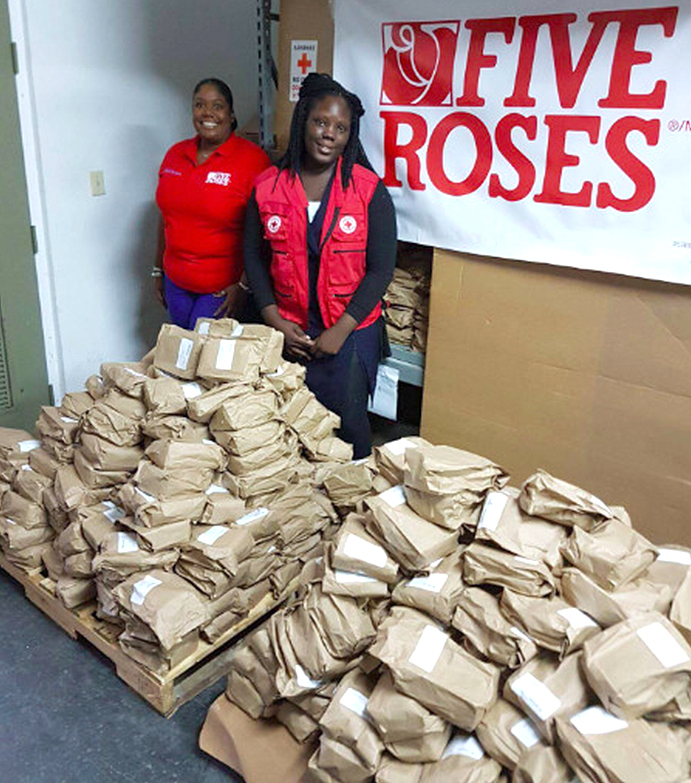 Nassau, Bahamas – In the aftermath of Hurricane Irma, Milo Butler Distributors has partnered with its vendor JM Smucker to bring relief to residents in the southern Bahamas. The US-based company produces Five Roses Flour and recently donated 1000 2lb bags to the Bahamas Red Cross Society for distribution throughout the impacted islands.
Just last month, Hurricane Irma caused widespread damage and destruction throughout the islands of The Bahamas. Immediately after the storm, Milo Butler Distributors partnered with local organizations to donate canned goods, grocery items, cleaning supplies and pet food. The team also reached out to its network of vendors in the international community for additional assistance. JM Smucker was the first to answer the call.
"Five Roses Flour is one of our leading brands and we have been distributing it exclusively in the Bahamian market for more than 20 years. The team at JM Smucker immediately offered their support and were willing to assist Milo Butler in our efforts to help the Family Island communities devastated by Hurricane Irma," said Margo Gibson, Brand Manager for JM Smucker at Milo Butler Distributors.
"At the core of our company's vision is the idea of transforming everyday businesses into movements that create a positive difference in society and so our involvement in the overall relief efforts and in this donation in particular was an easy decision on our part. We are happy to partner with the Bahamas Red Cross Society, once again, as they continue to assist Bahamians affected by the recent storm."
Caroline Turnquest, Director General at the Bahamas Red Cross Society thanked Milo Butler Distributors and JM Smucker for their support. "We are always grateful for donations received to assist us with the hurricane relief efforts. Milo Butler has been one of our key partners here at the Bahamas Red Cross Society for many years. We will be using the flour in our boxes that are going to the southern islands."
The non-profit organization is encouraging members of the public to continue to donate non-perishable food items to its headquarters on John F. Kennedy Drive. For more information on ongoing hurricane relief efforts, visit the Bahamas Red Cross Society's Facebook page or call 242-323-7370.