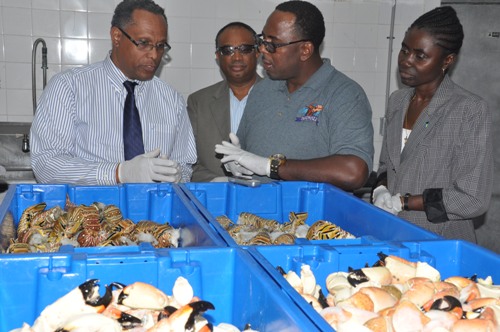 WEST END, Grand Bahama – The Hon. Dr. Michael Darville, Minister for Grand Bahama, toured Boardwalk Seafood on Thursday, as that business establishment was the first recipient of duty free concessions granted by the government for businesses in East and West Grand Bahama.
Accompanied by Ministry staff members along with staff of the Duty Free Concessions Department, the Minister was there to access and see how the duty free concessions were put in place. He commented, "I'm so pleased that with the initiation of the duty free concessions for East and West Grand Bahama, young entrepreneurs like Mr. (Kirk) Neely are benefitting from this initiative put in by this administration."
He said the government worked diligently, and in conjunction with the Member of Parliament for West Grand Bahama, the Hon. Obie Wilchcombe, to implement the programme. "We are noticing many business owners and young entrepreneurs coming forward to the Ministry for Grand Bahama to capitalise on this initiative put in place by the government."
"For too long, the residents who lived in Freeport, benefitted from duty free concessions. We felt that by the implementation of this initiative for East and West Grand Bahama we would not only activate existing businesses to expand, but create the entrepreneurial juices necessary to create jobs in West Grand Bahama."
Minister Darville commended Mr. Neely's success and growth in his business, and added he was pleased to see other young business people returning to West Grand Bahama to take advantage of the opportunity.
Mr. Neely expressed pleasure in receiving the concession, and said one of the things that benefitted him was the duty free concessions for equipment. He described it as a "great relief" because if they were in the position of having to find the funds for duty, the equipment he said, would "still be sitting at the harbour."
As a result of the concessions, Mr. Neely added, he was able to start his business and currently employs 12 people.