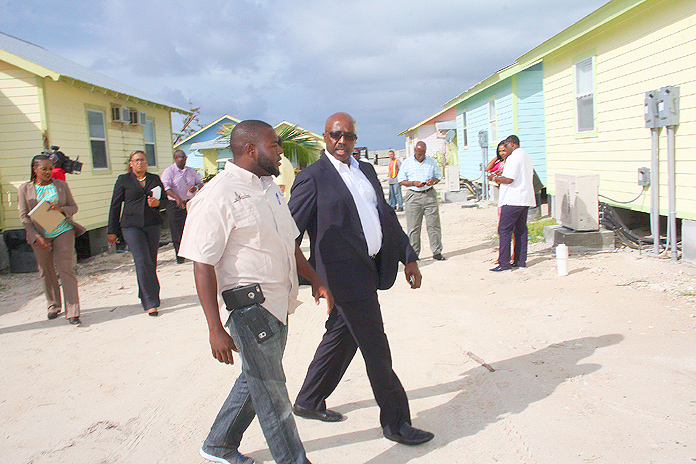 CHUB CAY, The Berry Islands, The Bahamas — After viewing the damage left in the wake of Hurricane Matthew on Chub Cay, Minister with responsibility for Hurricane Relief and Restoration the Hon. Shane Gibson pointed out, on October 31, 2016 that Chub Cay's damage affects residents of North Andros, many of whom are still attempting to restore their lives after the Hurricane's onslaught on that nearby island.
He explained that with the resort at Chub Cay now closed, persons who worked on the operational side were no longer on the job — unless they were able to work on construction and maintenance.
He described it as in fact "a double blow" for those who worked on Chub Cay, and came from Lowe Sound.
Minister Gibson led a small team to the island to view the damage and the work done by the property to address and rectify any issues. He said that it was his first visit to Chub Cay and he was very impressed by the property and the restoration efforts that are already full swing. Minister Gibson also related what he saw during the tour of the property.
"When you look at the homes that were impacted, obviously it is going to be a while before they get back to some sense of normalcy again…. Quite a number of the homes have some damage to them. The marina is closed right now, which is really preventing them from having their normal operations," Minister Gibson related. "When you look around and see the kind of damage that they have, I think they estimate that they have four or five million dollars in total."
Minister Gibson met a number of Bahamians who were working on the restoration and construction process, as well as being guided through work being done by a subcontractor, Jones Industrial Maintenance, by the company's CEO Kristan Jones.
He noted that it appeared to him, the biggest challenge the property will have is getting the company that normally repairs the marina to schedule them in — considering that a number of marinas in The Bahamas and the Southeastern US seaboard where affected by Hurricane Matthew.
Minister Gibson also pointed out that a number of the homes were insured and that the adjustors had already viewed them. The ones that were not insured belonged to high-income owners who would probably address that issue personally, he noted.
When asked about government assistance being considered in the restoration effort, Minister Gibson quickly pointed out, "they are operating 100 percent independent of us."
He added that some benefit has come to the employees with respect to restoration in that a number of high net worth persons, who own homes at Chub Cay, have already begun repairing accommodations of a number of the employees.
However, Minister Gibson's thoughts were again on the residents of Lowe Sound, who cannot work on Chub Cay until the repairs and restorations are completed.
"Some of them are not able to work now because the resort is closed and, of course, for most them, they lost all of their belongings," he said quietly.