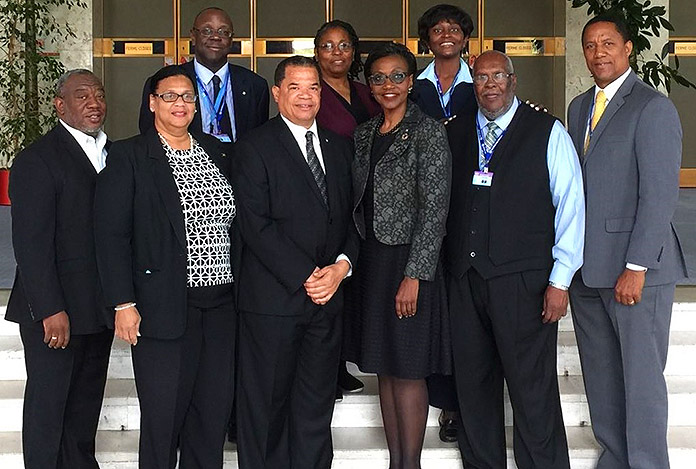 Senator, the Hon. Dion Foulkes, Minister of Labour, led a tri-partite delegation from The Bahamas to participate in the 106th Session of the International Labour Conference being held in Geneva, Switzerland June 5-16, 2017. During his three-day visit to Geneva, Minister Foulkes, in addressing the Conference, reaffirmed the commitment of the Government of The Bahamas to work with social partners to execute the mandate to improve the standard of living and the quality of life for working Bahamians.
The Minister further outlined a number of proposed initiatives to be undertaken by the Government, including the establishment of an Independent Arbitrator to settle disputes; the recognition of workers' rights in Heads of Agreements signed by the Government; and increased dialogue among social partners to promote and implement workers' educational programmes.
The ILC, the highest decision-making body of the International Labour Organization (ILO), convened under the theme "Building a future with decent work" to reflect the objective of Goal 8 on Decent Work and Economic Growth of the UN 2030 Agenda for Sustainable Development. The goal seeks to promote inclusive and sustainable economic growth and employment, and decent work for all.
The delegation included representatives from Government, Employers and Workers: H.E. Rhoda M. Jackson, Ambassador, Permanent Representative, Permanent Mission of the Commonwealth of The Bahamas to The United Nations Office and other International Organizations in Geneva; Bernard Evans, National Congress of Trade Unions; Michael Pinder, Commonwealth of The Bahamas Trade Union Congress; Rionda Godet, Bahamas Chamber of Commerce and Employers Confederation; Tanya Sherman, Assistant Director of Labour; Morgan Graham, Assistant Director of Labour; Bridget Hogg, Union of Tertiary Educators of The Bahamas; Frank Davis, Counselor Bahamian Embassy; and Bernadette Butler, Counselor Bahamian Embassy.