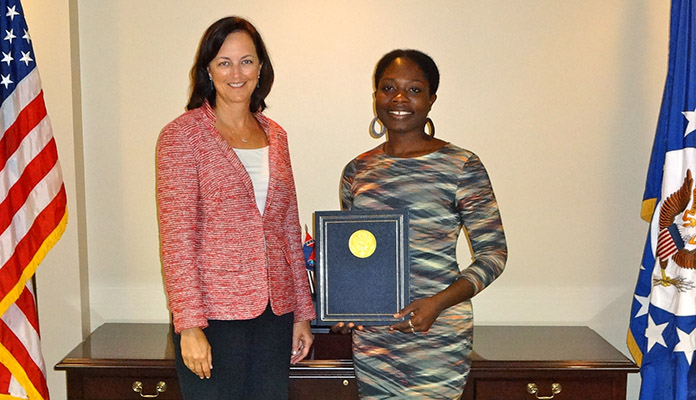 Nassau, Bahamas – On Thursday, June 8th, Ms. Arvis Mortimer Monitoring and Evaluation Specialist with a focus on the U.S. President's Emergency Plan for AIDS Relief (PEPFAR) in the Ministry of Health (MOH) paid a courtesy call to U.S. Chargé d'Affaires Lisa Johnson to discuss her participation in the U.S. State Department sponsored International Visitor Leadership Program (IVLP) focused on Marginalized Populations and Healthcare. In her role at MOH, Ms. Mortimer seeks to strengthen and develop monitoring and evaluation strategies for the National HIV/AIDS Centre.
In February of this year, Ms. Mortimer participated in the two-week professional exchange with sixteen counterparts from around the world. They visited Washington, D.C.; New York; Jacksonville, Florida; Minneapolis, Minnesota and Seattle, Washington, where they examined the U.S. health care system, research, theory, and practical treatment of illnesses that disproportionately afflict marginalized populations. The participants also explored training and professional development programs for doctors and engaged in cutting edge urban and rural health care strategies and programs.
During the meeting with Chargé Johnson, Ms. Mortimer discussed her plans to further develop her portfolio at The Bahamas' National HIV/AIDS Center with the best practices and networking opportunities she had an opportunity to share with her counterparts during her IVLP experience.