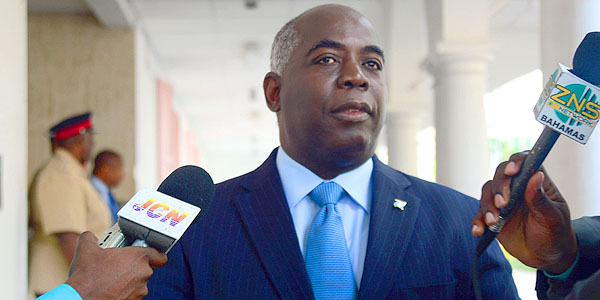 Nassau, The Bahamas – The Hon. Philip Davis, Deputy Prime Minister and Minister of Works and Urban Development highlighted infrastructural initiatives in his mid-year budget presentation to Parliamentarians in the House of Assembly, February 25.
Among the initiatives is the implementation of a road maintenance and management system, a part of the strengthening component of the New Providence Infrastructure Improvement Programme, advocated and funded by the Inter-American Development Bank.
According to Minister Davis, "this approach has been partially effected by a strategically realigned procurement practice, awarding relatively small contracts on a local area-by-area basis, thus ensuring good deployment of local resources and ensuring that small to medium-sized contractors are offered diverse employment opportunities."
He noted that a similar approach has been adopted for maintenance of cemeteries where 30 relatively small, new contracts were recently issued.  Fifteen contracts were also granted for maintenance of standpipes and wells on behalf of Water and Sewerage Corporation.
"Given the fact that my Ministry saved considerable funds in other areas, we were able to divert funds to sidewalk construction targeting delivery of approximately $2 million of contracts let in numerous small contracts before the end of the final quarter of this year.
"All of these initiatives signal a move away from larger agglomerated contracts to smaller disaggregated contracts which offer wider employment opportunities," added the Works Minister.
Minister Davis remarked that the Big Pond Park Development Project, which is in conjunction with the New Providence Road Improvement Project, is being restored and protected as an urban open space as an offset for negative impacts incurred by road construction.
He explained that the plan to develop the park was completed in 2001 and in 2014, Cabinet approved a $3.8 million contract to undertake Phase IB and authorized BEST Commission to provide oversight of the environmental concerns related to the works.
In October 2014, the Ministry of Works and Urban Development in partnership with the Department of Environmental Health Services, BEST Commission, Department of Public Health, and Water & Sewerage Corporation held a Town Meeting to address environmental concerns, promote the use of the park as a venue for enterprise and to advise residents of neighbouring communities against water activities at the park.
"Anyone passing by can see the already resplendent beauty of the park in the heart of our urban community.  We look forward to its official opening," he said.
The projected completion date is March 2015.