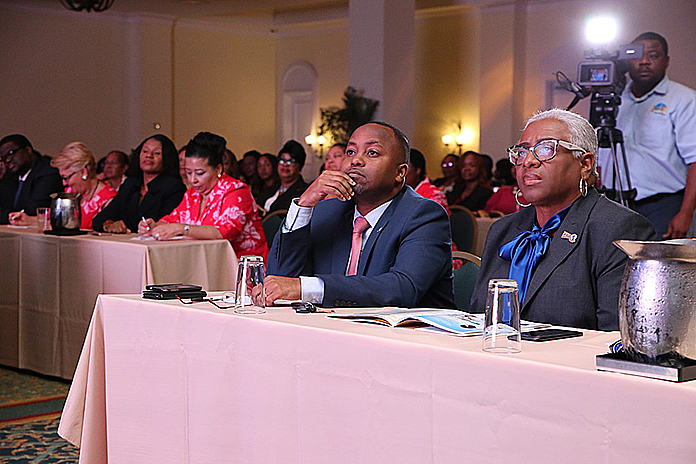 FREEPORT, Grand Bahama – Minister of State for Grand Bahama in the Office of the Prime Minister, Senator Kwasi Thompson said that the Government of The Bahamas is actively working on modernizing policies and procedures to make it much easier for international professionals to do business in Grand Bahama.
The ease-of-doing-business effort was one of many reasons Grand Bahama is an attractive destination, not just for vacation, but for business, the Minister said.
During his address to delegates who attending the 36th Triennial Conference in Grand Bahama, from November 13-18 at the Grand Lucayan, Minister Thompson listed a host of other features which he said made Grand Bahama a unique island in The Bahamas.
"We currently are in discussions to adjust our immigration policies to ease the process of travel and to gain residency here in The Bahamas," Minister Thompson pointed out. "We are inviting international companies, and hopefully clients like yourselves, and particularly those in manufacturing and technology industries to open up their head offices here in Grand Bahama.
"Our location and ready work force is ideal for development. We are ideally also suited for housing international call centers and data storage centers. Grand Bahama is simply a great place to live. We have affordable and ready available land just read for second home residents.
He congratulated the organizers of the Conference, pointing to the Federation's outstanding achievement during their years of existence, during which time they experienced exceptional global reach.
"Throughout FIDA's 73 years, the organization has been a vessel of change and progress through the provision of legal aid, educational programs and advocacy," noted Minister Thompson. "FIDA has been instrumental in the empowerment of women across the globe. Your efforts have been inspirational and we are honored to host you here in Grand Bahama.
"I wish to congratulate our very own president Jethlyn Burrows, FIDA's international president, who exemplifies the values that FIDA stands for. We are very proud of what she has accomplished."
The 36th Triennial Conference of the International Federation of Female Lawyers was held under the theme "the economic empowerment of women and children in an evolving world" and marked an historic moment in Bahamian history, as it was the first time FIDA has brought its conference to The Bahamas.
Minister Thompson encouraged international attendees that while in The Bahamas, they would take some time away from the conference to experience all that Grand Bahama has to offer. He noted that Grand Bahama is more than just a place to visit, but a place where one could invest and do business.
Giving the conference delegates a little history of the island, Minister Thompson pointed out that the island of Grand Bahama has established itself as world renowned industrial and maritime center.
"Our close proximity to the United States, just 68 miles off the east coast of Florida, as well as our deep clear waters, has aided in the development of Grand Bahama's Maritime Industry. The Grand Bahama Shipyard Limited accommodates vessels from cruise, commercial and offshore segments of the maritime industry and is a world leader in dry docking, float repairs, refits, refurbishing and revitalizations."
Minister Thompson gave the delegates insight into the special arrangement between the government and the Grand Bahama Port Authority through the Hawksbill Creek Agreement, which he noted, gave businesses in the Port area certain rights and benefits which helped to create a free trade zone on Grand Bahama Island. This, he said, was really intended to spur economic development.
Further, Minister Thompson noted that the Government of The Bahamas has afforded business owners outside of the Port area, an opportunity to benefit from duty-free concessions.
"As we move forward in developing the future of Grand Bahama, I am completely certain that women will continue to play an important role in our economic advancement, in technology, politics, law, business and in many other industries.
"As exemplified in FIDA's achievements, we expect that women will continue to play an important role in The Bahamas."