Ministers Campbell and Ferreira Join MP Adrian Gibson to Assess the Impact of Abandoned Barge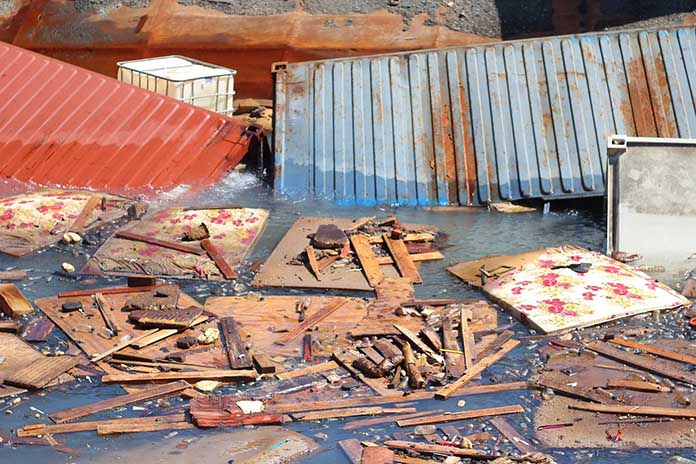 DEADMAN'S CAY, Long Island — No spilled oil or environmental damage was caused by the abandoned barge, left broken up at Gray's Bay in Long Island, as was reported by numerous concerned residents, voicing their opinions on social media.
On the morning of October 25th, a Government delegation left Nassau and arrived at Deadman's Cay Airport, shortly after 10 A.M., with an assessment party of eight persons to visit the abandoned barge site, which included Minister of Transport and Local Government, the Hon. Frankie Campbell, and Minister of the Environment and Housing, the Hon. Romauld Ferreira, as well as Long Island M.P., Adrian Gibson.
The treacherous trek to the site took the group about two hours to make, both getting there to the barge, as well as leaving the barge site to get back to the main road, and proved to be a true test of physical fitness for everyone. They arrived to document the real damage inflicted on the area, and calculate a cost for the Clean Up of the cargo contents, spilled from inside of the damaged barge and assess the mitigation of any environmental threats caused by spoils and debris.
The group was accompanied by the Defence Force, the Royal Bahamas Police Force, Public Hospitals Authority (PHA) Clinic Nurses, as well as Local Government officials, whom all proceeded in the assigned vehicles, straight to the beach site.
The man-made and weather- beaten path to the vessel's final resting place was naturally enclosed and environmentally coveted by hilly rough terrain, and sharp, black honeycombed rock, intimately inclined on a hill-shaped beachfront. In addition to being complimented by fossilized coral reefs, which were exposed to millions of years of climate change, Gray's Bay seemed to be an appropriate place for a dying battered barge to find a peaceful place to expire its course, and created a natural protection to the minimizing the spread of the ship's hazardous contents and containing it safely.
Although the Long Island Administrator arranged transportation into Clarence Town, where a fly over could have been conducted, followed by a trip by boat to the site, ocean swells permitting, the assessment group felt collectively it was more fitting to physically walk to the site, suitably attired, to get a more hands-on and accurate assessment of how impenetrable these accidents are to impacting the vulnerability of the environment.
The Staniel Cay, Exuma assessment part of the trip was cancelled, due to the fact that the owner of that barge moved his damaged vehicle on Tuesday, October 24th.
Why did they had to lie?