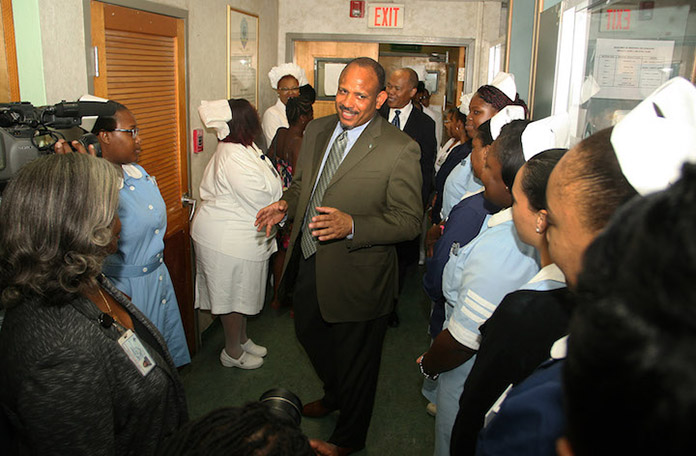 By Bradley Roberts
I am advised from multiple sources that Health Minister Dr. Duane Sands performed several surgical procedures at the Princess Margaret Hospital after his appointment as a Cabinet Minister.
If these reports are true, Dr. Sands in the capacity of Health Minister is in direct violation of established and longstanding cabinet code of ethics and procedures for its Ministers as the Health Minister would have placed himself in a fundamental conflict between his private business interests and his public duty. Certainly the Health Minister as regulator cannot self-regulate; it is called self-dealing, an unacceptable and corrupt practice that Dr. Minnis vowed to stamp out of government.
Under these established Code of Ethics, Cabinet Ministers would be required to discontinue all private work on assumption of office. Further, they are required to resign from any other public office or as director and/or officer of any and all public or private companies or associations. Contractual relationships with the government must be terminated, with interest in any company holding such contractual relationships divested or, as appropriate, placed in a blind trust.
According to Manual of Cabinet procedure, a Minister must avoid situations in which his private interest, whether pecuniary or otherwise, conflicts or might reasonably be thought to conflict with his public duties.
I refer to comments delivered by Prime Minister Minnis at Government House during the swearing-in ceremonies of his cabinet ministers just five short months ago:
"Good and open government demands transparency and accountability. Good governance demands being responsible for our actions.
"Accordingly, I will hold my minsters to the highest standards of ethical conduct in the performance of their public duties."
Dr. Sands' behavior is a clear breech of public trust and is not representative of good governance, humility, personal sacrifice, responsibility, honesty or ethical conduct. He has compromised the integrity of his high office and this demands immediate accountability for his actions.
I therefore call on the Prime Minister to clarify this reported and apparent blatant conflict of interest, this unethical conduct and this breech of public trust by his Health Minister, Dr. Duane Sands as cannot have his cake and eat it too.