<<< Young Bahamians protest outside the 'Toilet Paper' on Shirley Street. In below photo (INSET) Hon. Fred Mitchell, Fox Hill MP.

Speaking to the press, Fox Hill MP Fred Mitchell responded to reports in the WUTLESS  'Toilet Paper' Tribune of comments from the Auditor General regarding the Ministry of Foreign Affairs.  Following is the text of Mr. Mitchell's statement.

STATEMENT BY FRED MITCHELL MP OPPOSITION SPOKESMAN ON FOREIGN AFFAIRS….Responding To Reports of Millions Missing and Visa Scam
House of Assembly- 2nd March 2009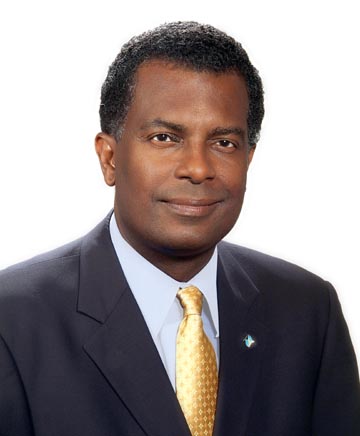 The headline in this morning's Tribune 2nd March that a million dollars was missing in the Ministry of Foreign Affairs as at 30th June 2007 is inaccurate. The headline does not reflect what the story itself says. Neither does the Auditor General's report say that a million dollars is missing.
The report points out irregularities in the procedures which meant that on the day or days over which the audit was done, certain documentation as not available. It is possible that the very next day the information was available.
When you say funds are missing, it gives the impression that there was theft or malfeasance when there was none, certainly none that I am aware of. The Auditor General's report does not suggest that either.
The Chief Accounting Officer of the Ministry is the Permanent Secretary. The Permanent Secretary today is Dr. Patricia Rodgers. The person who set up the embassy in Cuba where the Tribune inaccurately says funds were missing was Carlton Wright, the Under Secretary. Both individuals remain in post today at the Ministry. They would not be there if a million dollars were missing.
Further as regards the question of a visa scam in a related story in the Tribune, there was no visa scam. Not even the Minister Carl Bethel who made the first spurious allegations could continue to support that assertion. The Auditor General's comments were related to processes and these were communicated to the Ministry while I was there. An independent management audit was conducted at my insistence. Instructions were given to execute the necessary corrective measures. All of us were concerned about abuse of the system. It is well known what my position was on this matter. Following my demitting office, the present Minister was able to complete the work I started on this.
I intend to raise this matter with the Public Accounts Committee.
-END-