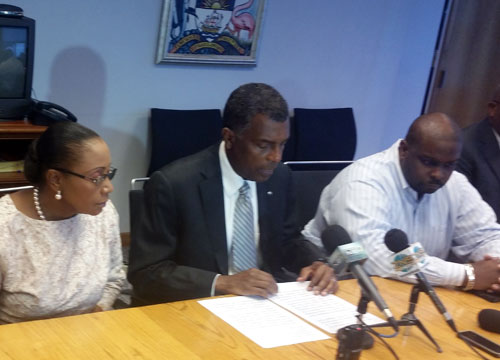 Nassau, Bahamas – It was during a demolition exercise on a Farrington Road shanty town in Nassau late last week that a dweller told a ZNS News reporter that there are more Haitian-Bahamians than Bahamians therefore "they" should not start something they cannot finish. The comment was interpreted by some as inflammatory and incited civil unrest. Video was posted on facebook and created a firestorm of criticism and commentary, some inflammatory.
It was against this backdrop that a press conference was held on Sunday 19th October by the Minister of Foreign Affairs and Immigration, Fred Mitchell, MP to address this matter. The following is his statement:
Last evening, doing the rounds of social media were responses to a news story run by the Broadcasting Corporation of The Bahamas in which an individual speaking at the demolition site of one of the shanty towns uttered certain remarks which aroused much commentary in the public domain.
The Department of Immigration which is responsible for the issuance of permission to reside in The Bahamas and the enforcement of the accompanying laws are aware of the matter and the enforcement unit is investigating the matter.  In addition, the matter has been referred to the Royal Bahamas Police Force.
Notwithstanding the inflammatory nature of the remarks, all patriotic Bahamians and law abiding non- nationals in this country should refrain from responding in this matter in a way which would approximate taking matters into your own hands. This is a time for reasoned response. Let the authorities deal with it.
There are agencies of the government that are responsible for protecting the integrity of The Bahamas and they should be allowed to do this work. Suffice it to say that this matter is being taken seriously.
When I spoke on behalf of the country in New York on 30th September at the United Nations, I said that this country was conscious that unchecked illegal migration could lead to civil strife that is why we are taking steps to bring the matter under control.
I again plead to all law abiding citizens to support the measures that have been announced and which I expect to come into force on 1st November.
There are a number of important interdictions and prosecutions that have taken place within the last week and I wish to share  that with you which I will do extemporaneously. I have with me my colleague the Minister for the Environment Ken Dorsett and also the Director of Immigration William Pratt.