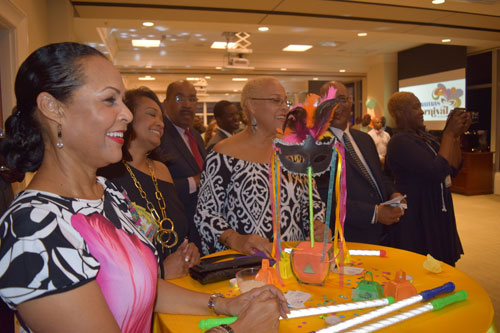 ATLANTA, GA- Drum rhythms, beautiful costumes and colorful renditions of all things Bahamian was the highlight of the first international launch for the 2015 Bahamas Junkanoo Carnival, held on Wednesday, October 8th at Nelson Mullins Riley & Scarborough, LLP, Atlanta Georgia. Organized by the Bahamas Consulate the Bahamas Tourist Office Atlanta, and The Bahamas National Festival Commission, the event was complete with Bahamian food, art, and music. Culminating the evening was a performance by the world renowned Colours Junkanoo Group and Rake n' Scrape band, featuring a parade of vibrant costumed carnival dancers from The Bahamas. The event attracted in excess of 100 plus key influencers within Atlanta's fashion and entertainment industries, hospitality, tourism and travel conglomerates.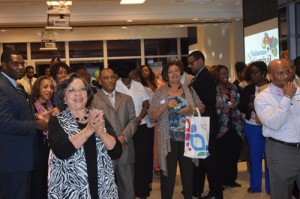 The introduction of the historic fusion of two internationally recognized festivals, Junkanoo and Carnival, to the world, beginning with Atlanta, has uniquely branded The Bahamas Junkanoo Carnival. CEO of The Bahamas National Festival Commission (BNFC), Mr. Roscoe Dames, introduced to Atlanta, a series of Bahamian celebrations packaged into what is set to be a 5 week carnival season within The Islands of The Bahamas. Beginning Easter Monday through May 9, 2015, the celebrations will consist of a cadre of parties and events throughout the Islands.
Dames, noted that the Commission is driving an effort to stimulate year-round economic activity in the creative industry sector within The Bahamas. "This will create opportunities for Small-Medium Enterprises (SMEs) with a potential GDP impact of $400 million. The Bahamas is positioned as a well-established destination brand with a captive market of 6 million annual visitors. Our unique culture and art forms certainly add an essence and flavor that will stimulate the cultural economy for years to come," he said.
Grand Bahama Island will anchor the festivities on April 17th-18th during the carnival season with celebrations including: The Music Masters Concert, Midnight Rush and a Bahamas Junkanoo Carnival Beach Party. All roads will then lead to Nassau, May 7th-9th for four main events: JunkaMania, Midnight Rush, Music Masters, and Road Fever.
"The inclusion of Family Islands is essential for the success of Bahamas Junkanoo Carnival," said Dames. "We have sourced indigenous materials from the Family Islands for costume development and look forward to including all aspects of our culture from around the chain of islands. Additionally, the Bahamas National Festival Commission will continue to support local cultural events and festivals."
The Atlanta launch of the 2015 Bahamas Junkanoo Carnival served up a smorgasbord of Bahamian flavor whetting the appetites of all who were present.
Bahamas Carnival is a collage of Bahamian culture. It is a festive month long celebration where Bahamians and guests from around the world will be immersed in all things Bahamian. The carnival events will showcase Junkanoo, Rake -n- Scrape, arts and crafts, Bahamian cuisine, visual art, music, dance and more.
Furthermore, Bahamas Junkanoo Carnival with its signature events is a high level entertainment experience that sets the stage for Bahamian recording artists to nurture their sound and express themselves in front of a global audience. It will also include an immersive parade on an iconic stage.
What are the vision & goals of Bahamas Carnival?
Bahamas Carnival is a major initiative that will stimulate sustainable economic opportunities for Small and Medium Enterprises (SMEs) in the Creative Sector throughout The Bahamas.
It will stimulate year round employment in the Creative Sector.
Bahamas Carnival will positively and significantly impact GDP.
Persons interested in participating in Bahamas Junkanoo Carnival, can visit thebahamascarnival.com to shop for costumes and crafts and to remain current with the events calendar.