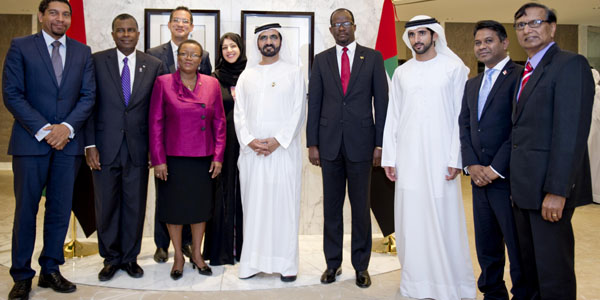 Dubai, United Arab Emirates – Fred Mitchell, Minister of Foreign Affairs of The Bahamas shown in this picture with the Foreign Ministers of St Vincent, Barbados, St. Lucia,  Grenada; the Environment Minister of Trinidad and the Ambassador for Guyana at the Ministry of International Cooperation and Development of the United Arab Emirates on Wednesday 7th May. The delegation met with the UAE's Minister of State for International Cooperation  Reem Al Hashimy (fifth from left).
The Prime Minister of the United Arab Emirates and the ruler of Dubai (pictured sixth from the left) Sheikh Mohammed bin Zayed Al Nahyan with the Crown Prince (3rd from the right) Hamdan bin Mohammed bin Rashid Al Maktoum stopped by to greet the visiting Caribbean officials and to exchange views on the development of relations in the region.
The Bahamas is exploring the placement of a consulate in Dubai to serve the financial services sector, the ship registry and to assist with the incorporation of Bahamian companies and the authentication of documents for those services. In addition, The Bahamas is in the early stages of the design of its pavilion for the 2020 expo which is to be held in Dubai in 2020 and will require the recruitment of Bahamian professionals to assist in its design and construction.