Money gone from MOT AGAIN? This time under the New PLP REGIME! THIEF!!!!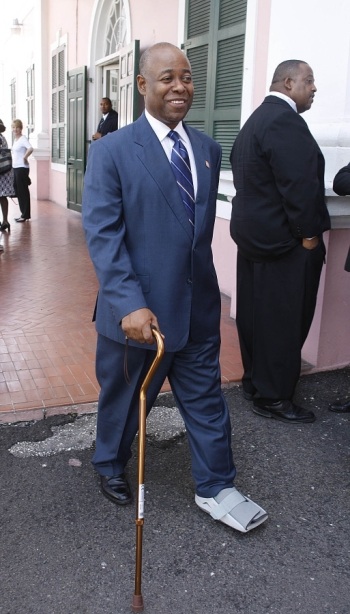 Nassau, Bahamas — Revelations emanating out of the Ministry of Tourism [MOT] could send shockwaves throughout the entire government and today investigations as high up as from the Cabinet Office could begin looking into the department for second investigation.
Bahamas Press has learned a MOT employee had to be escorted off the property after what can only be a broad day heist – stealing by reason of employment – exercise in the Tourism department.
We have scaled the walls at the ministry in downtown Nassau and can confirm serious – VERY SERIOUS shenanigans have been happening out of the government department.
Last week a female employee was escorted off the property in the Ministry after a discovery of more than $60,000 had been wiped off the MOT foreign bank account. The funds, when traced, lead to the private account of the employee.
Trying to stop the investigation, we are told the employee went home and fetched some SIXTY THOUSAND DOLLARS IN COLD CASH – hoping that the department official would accept the funds  – but it was too late and police were called in.
We can confirm detectives were called in to assist with the investigation, which led to the arrest of the employee.
In a similar incident prior the May 7th General Elections, vanishing funds first saw a highpoint when a company was paid more than $825,000 with no services rendered for the country's tourism product. A former Minister had been accused of having refused to discontinue the contract even after senior executives within the department raised the matter with the Attorney General's office.
Eventually the contract was terminated after the handsome sum was paid to a company, which had no board and only $10 in a bank account registered to the company in Delaware. WHAT A RIPOFF!
Current Minister of Tourism promised the press this week that the investigation is complete and will be tabled soon in parliament but get this; the individual carrying out the investigation at Tourism  when Vincent Vanderpool-Wallace sat as minister is also alleged to be a friend of the former Minister. – WHAT IN THE HELL IS THIS?
How could you investigate ya friend? THAT'S A CONFLICT AND FRAUD IN ITSELF!
What kind a fraud is this happening in Tourism? We can confirm the woman in this latest development is yet to be brought before the courts! WHAT ARE POWERFUL PEOPLE SEEKING TO PROTECT THIEVES?!
Almost every day some new case of corruption is unfolding in the Bahamas!
We report yinner decide!