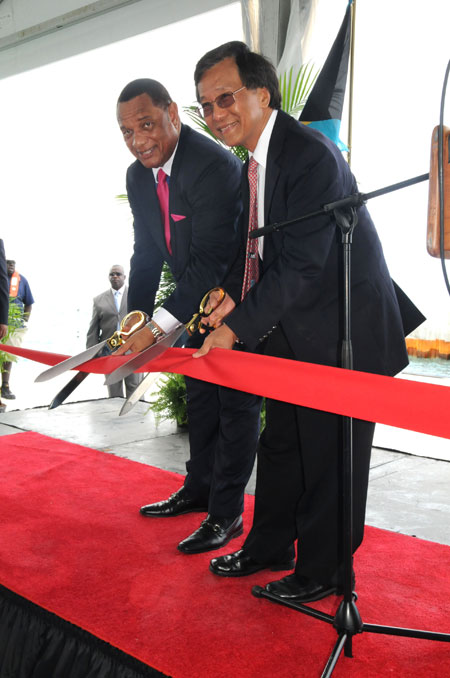 Christie revives the economy of the Northern Bahamas!
BIMINI, The Bahamas – Resorts World Bimini Resort has seen a 30 percent increase in occupancy since its opening and is currently constructing a new 300-room hotel. Prime Minister, the Rt. Hon. Perry G. Christie made the statement during the official opening of the Port at Resorts World Bimini on September 18. The majority of his cabinet ministers accompanied him.
Mr. Christie said that this signals more opportunities for Bahamians.
"I would like for you to listen very carefully to the jobs and economic impact of the Resorts World development," said Mr. Christie. "Some 480 persons have been involved in construction and to date 488 persons are employed at the resort. When the new hotel opens some 800 persons will be employed permanently at the resort."
The Prime Minister said that several infrastructural projects are also scheduled for Bimini and will take place during the upcoming months.
"Phase 1 of the cruise pier is now completed, and I am advised that the temporary Customs and Immigration building will be operational within one month," said Mr. Christie. "The permanent Customs & Immigration building will be completed in six months time and will have space for a Tourism desk, tour operators as well as check in counters."
In addition, the Prime Minister said that other amenities including a straw and craft market for local vendors, transportation pick up area, a beach restaurant, and a warehouse for local freight will be located landside of the deep water jetty. He said that the new jetty would facilitate more visitors to Bimini, and allow more of them to spend more time in the local community and more opportunity to stay over in local resorts. Further, Mr. Christie pointed out, there would be additional benefits.
"Limited service caused by weather conditions, tendering of passengers and lack of a deep water docking facility for the cruise ferry will now be a thing of the past," he said. "The cruise ferry is now looking to attract some 1,000 persons per cruise six days a week, thereby creating a significantly increased economic impact on the resort, the community and Government revenue."
Chairman of Genting Group, Mr. K. T. Lim, also delivered remarks. He said that he was 'proud' to be a part of the Bahamian community and 'looked forward' to making even greater contributions to the island.
With the construction of the new port, guests will spend up to six hours on the island of Bimini. Resorts World also announced that Bimini Superfast ferry would complement its current Friday, Saturday and Sunday cruise schedule from Port Miami with a weekday schedule from Port Everglades to Bimini every Tuesday, Wednesday and Thursday commencing on October 14, 2014. Just four months ago,
the runway of South Bimini International Airport was completed. The airport now has the capacity to accommodate night flights.
The Genting Group, a global company founded in 1965, operates Resorts World Bimini. It is the world's largest Destination Resorts operator. Genting has Resorts World-branded properties in Asia, Europe, and North America and on all four oceans through 50 percent ownership of Norwegian Cruise Line and Star Cruises brands. Genting's international partners include Universal Studios and Simon Property. The company has a combined market capitalization of $45 billion and employs more than 50,000 persons worldwide.
Christie Bursting with Pride as Economy takes off in Norther Bahamas! Bahamians are headed back to work!