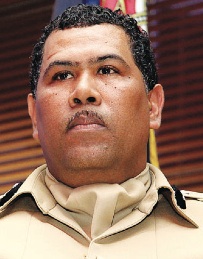 Nassau, Bahamas – POLICE are reporting the seizure of two firearms, during day four of its major anti-crime operation conducted in several communities of New Providence overnight.The first seizure occurred shortly after 10:30pm on Saturday 20th September 2014, when police arrested a 28 – old man of Ridgeland Park at Sir Milio Butler Highway for possession of a handgun and ammunition.
The second seizure occurred shortly after 12:30am on Sunday 21st September 2014, when police arrested a 49 – old man of Cowpen Road and a 22 – year old man of Pinewood Gardens at St. Vincent Road for possession of a shotgun and ammunition.
Police also arrested 8 other persons for various major and minor offences including arm robbery, drugs and outstanding criminal warrants. Additionally 27 drivers were cited for various criminal offences.
The operation, which is consistent with the Commissioner's 2014 Policing Priorities, was under the command of Assistant Commissioner Anthony Ferguson.
Police officer struck…
A police officer received minor injuries, after the driver of a vehicle struck him down during a police operation overnight.
According to reports, shortly after 2:00am on Sunday 21st September 2014, while conducting an operation at Baillou Hill Road South, police signaled the driver of a motor vehicle to stop. However the driver refused to comply and attempted to drive off in the direction of the officers, injuring one of the officers. Police in fear of their lives fired several shots at the vehicle hitting the driver to the hand and thigh.
The officer injuries are listed as non-life threatening and the 34 – year suspect is detained in hospital in stable condition.
AMERICAN MAN IN CUSTODY FOR ATTEMPTED UNLAWFUL SEXUAL INTERCOURSE
A 33 – year old American man is in custody, for questioning reference to an attempted unlawful sexual intercourse complaint made by an adult female American visitor overnight.
According to reports, shortly before 3:00am on Sunday 21st September 2014, a female American visitor reported to police that the suspect, whom she met two days ago attempted to sexually assault her at a resort at Paradise Island.Police acting on information later arrested the American male visitor in connection with this incident.
NORTHEASTERN DIVISION OFFICERS MAKE SEVERAL ARRESTS OVER 48 HOUR PERIOD
Consistent with the Commissioner 's Policing Priorities for 2014, officers from the Northeastern Division conducted several operations in the division during the past 48 hours, that targeted persons wanted for a number of serious crimes, such as armed robbery and housebreaking.The operation resulted in the arrest of 20 persons for various major and minor offences.
8 ARRESTED OVERNIGHT BY MOBILE DIVISION OFFICERS
Consistent with the Commissioner's Policing Priorities for 2014, Mobile Division saturation patrols intended to reduce crime and to minimize the ability for criminals to commit criminal activities resulted in the arrests of eight (8) persons overnight for various minor and major offences.
POLICE are appealing to anyone with information regarding any crime, no matter how small or insignificant (the tip) may seem, to anonymously call Police at 919 or CRIME STOPPERS at 328-TIPS (8477) (New Providence) or 1-242-300-8476 (Family Islands).