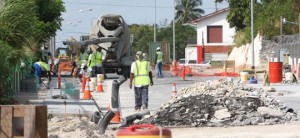 Nassau, Bahamas – The Ministry of Public Works and Transport wishes to advise the public of the following road closures as the New Providence Road Improvement and Infrastructure Project continues.
East Street South
On Saturday, July 9, 2011 there will be a temporary diversion of traffic to allow the installation of a drainage well at the intersection of East Street South/Bamboo Boulevard and Zion Boulevard. The diversion will allow for one day. Motorists are asked to follow the posted diversion signs.
Baillou Hill Road South
Road works continue on the verge between Soldier Road and the Town Centre Mall Roundabout. Traffic has been maintained as utility service ducts and drainage pipes have been installed.
Beginning Wednesday, July 13 motorists are advised to expect a road closure for the southbound lane on Baillou Hill Road near to Family Guardian.
Two lanes of traffic will be implemented in the northbound lane while the area directly behind Family Guardian will be closed to vehicular traffic. Southbound traffic will cross over to the northbound lane and there will be one lane of traffic in each direction. Local access will be granted to nearby residents and businesses.
Geno D – Dig Up 2011 by 242party