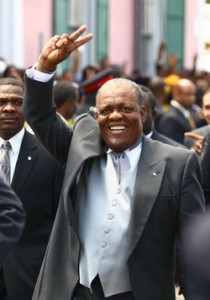 The Bahamas is now officially up for sale, and the Free National Movement Government has taken the act a step further by selling the birthright of ALL BAHAMIANS for an election!
Bahamas Press has learnt the FNM government has announced via the media its intent to meet with all former residents of Mackey Yard. The move is to meet with them to discuss ways to regularize them in the country.
Readers would remember in December a huge fire engulfed the squatter's community, delivering scores of undocumented nationals homeless.
Some 38 years later, with thousands of Bahamians waiting to become homeowners, unable to purchase a plot of land now out of reach, the Government of the FNM is announcing its intent to document ILLEGALS and provide housing for the squatters? WHAT IN HELL IS THIS?
In Feb this year Bahamas Press reported some six residents of the Mackey Yard area in the Fire Trail community were recently assisted by a top FNM to be registered for the upcoming general elections. We are told all the persons were without the required documents; including information relating to their status in The Bahamas.
We are told all six members of that community were registered by the Parliamentary Commissioner's office. All the persons we are told only presented their driver's licenses and their former voter's card. None of the persons we can confirm presented any form of birth certifies or valid passports in the process.
Prime Minister Rt. Hon. Hubert Ingraham along with several Cabinet colleagues following the fire in December visited Mackey Yard, delivering a truckload of assistance from the government; including the rebuilding of homes for the squatters to get a first preference to purchase the homes built at the expense of taxpayers.
Government will now meet with those residents this week and organize plans to formalize them as citizens.
Come this Tuesday morning an additional group of new Bahamians are expected to take the pledge at a ceremony at Hawkins Hill.