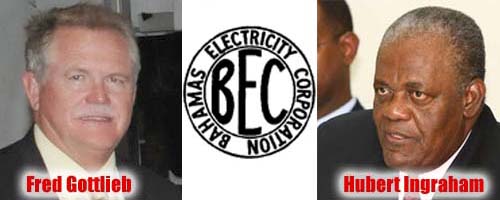 Nassau, Bahamas — Breaking News coming into Bahamas Press now confirm that a second round of executive terminations and disconnection exercises will soon commence at the Bahamas Electricity Corporation.
Bahamas Press has learned that an executive order by the Cabinet of The Bahamas has once again ordered BEC to streamline some upper management positions and to disconnect all outstanding consumers.
A senior manager at the electricity giant told Bahamas Press, "We will soon roll-out a new advertising campaign to warn customers of the disconnections, advising persons to pay their bills. However, whilst this is being done, persons with outstanding balances with the corporation will find themselves in darkness."
The exercise is expected to begin this month and will include both commercial and residential consumers. "The disconnection exercise will be carried out in stages and we advise person to come in and make full payments to the corporation."
The BEC senior manager told BP that this time no reconnection would be carried out unless the bill is 100% paid in full.
Last year BEC by order of the Ingraham Cabinet disconnected some 6,000 consumers for unpaid bills to the corporation, however, in a communication to Parliament Prime Minister Rt. Hon. Hubert Ingraham reversed the order allowing the company to reconnect the residential consumers.
Since that reorder, some 5,200 consumers  were again turned off due to nonpayment, according to Phenton Neymour Minister of State with responsibility for BEC.
On February 20th, four top executives at BEC were terminated including Brian Albury, assisting general manager and Everette Sweeting, CFO, Shelly Cooke aand Decosta Bethel. Our sources at BEC tell us, "That was just the beginning of things to come at the troubled electricity company."