GRANT AND THE TERLET PAPER SHOULD READ THE  GUARDIAN JULY 22nd, 2011!!!! >>>>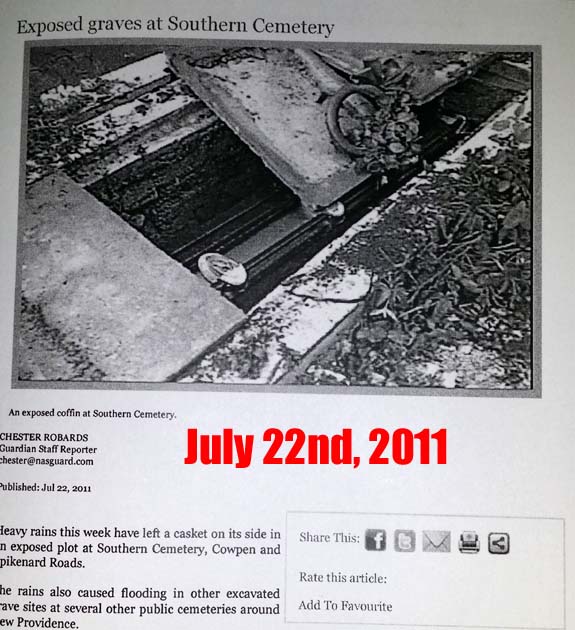 And why is the Tribune all up in the graveyard, digging bones?!
Nassau, Bahamas — Bahamas Press is coming out to defend Prime Minister Christie's Viceroy, Philip Brave Davis, today after a wutless reporter at the "terlet paper" decided to contact Neko Grant about the Southern Cemetery on Cowpen and Spikenard Roads.
We at BP often say these people in the wutless gutless media have no damn shame, and the people they often contact to give commentary are even more shameless!
They contacted Neko Grant on the state of the Cemetery in the South and he suggested that the state of the burial grounds is "nothing short of a national disgrace". The Terlet Paper visited the site where they claimed some graves were left without attention.
Minister Grant and his sympathizers in the 'Terlet Paper' have short memories. In fact, had they did their research before the story; they would know that the graves in the Southern section of New Providence have had the best maintenance program in a long while.
But what is indeed interesting is the fact that, when Neko Grant served as Minister of Works, he attempted to create an unkempt culture of nastiness, not just in the graveyards around the country, but just take a look at the pictures of the roads and highways that had descended to a deplorable state under his watch.
Had the WUTLESS reporter in the Tribune done research, they would have uncovered "documented" evidence of our claims in the July 22nd, 2011 edition of the Nassau Guardian where fresh graves were laid wide open with caskets exposed when Grant was Minister. The story reported how "Slabs of concrete that usually cover used graves were broken above one of the plots and the casket was on its side." The story further added that, "….the cemetery's western area was covered with a mixture of waste and debris." This report went unmentioned by the terlet paper. But ya know – THEY HAVE NO DAMN SHAME!
Perhaps Grant was having flashbacks of his past performance at the Cowpen and Spikenard cemetery. What he and the shameless 'terlet paper' should be doing is encouraging Bahamians to keep their purchased plots with their relatives remains therein CLEAN, GREEN AND PRIS…[yinner know what I mean…].
We report yinner decide!