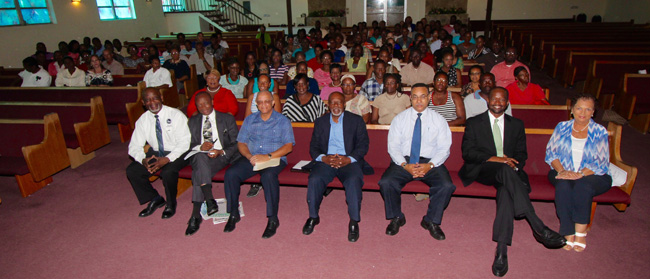 Nassau, Bahamas — The National Emergency Management Agency (NEMA) of The Bahamas is developing Disaster Preparedness Management Plans for all schools in the country, and Temple Christian School, which consists of two divisions, a high school and a pre and elementary school, is one of the first schools the Agency is working with.
NEMA Operations/Training Officer, Luke Bethel, gave a short presentation on June 18 to the Executives and staff at Temple Christian School to familiarise them with disaster preparedness plans NEMA along with CDEMA, the regional organisation known as the Caribbean Disaster Emergency Management Agency, have to offer.
He explained that CDEMA is the lead agency for receiving financial donations and technical assistance from around the world. The aid and technical assistance is channelled through the organisation to go throughout The Bahamas and the entire Caribbean. "When we are in distress, we can call on CDEMA. They provided this template to us; so we want to recognise them a bit."
Mr. Bethel said, "We are not forcing you to take a plan, but if you do not have a plan, we are here to make this available to Temple Christian School and to all schools throughout The Commonwealth of The Bahamas."
He said he is going to send out a school safety policy framework to administrators, principals, faculty, and staff. It will give them a template to create a school emergency management team, as there must be a team in place to manage the plan.
He said, "Please volunteer to become members and participate. You are the second school. The College of The Bahamas had 20 persons and I am very proud of this.
"I am going to ask you to set some deadlines, possible deadlines of when you want to adopt this plan and how you intend to implement it and who is going to be the team in working with it."