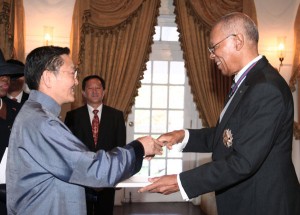 Nassau, The Bahamas –  Letters of Credence was presented to Governor General Sir Arthur Foulkes during an official ceremony at Government House May 26 accrediting His Excellency Hu Shan as the resident Ambassador of the People's Republic of China to The Bahamas.
Sir Arthur welcomed Ambassador Hu Shan to The Bahamas and also accepted letters of recall from his predecessor Ambassador Hu Dingxian.
"I extend congratulations to you on your new appointment and a warm welcome to your new home in the Archipelago of The Bahamas," said Sir Arthur.
Ambassador Hu said he was "honoured" to be the sixth Chinese Ambassador to The Bahamas.
"Today is a significant day for me," said Ambassador Hu. "From now on I can start my work in the capacity of the Ambassador of the People's Republic of China to the Commonwealth of The Bahamas."
Sir Arthur reminded the audience that the establishment of diplomatic relations between the two countries, May 23, 1997, marked the beginnings of a 'multifaceted relationship.'
"The direction of the developments since that day is indicative of the level of mutual respect that each of our countries has for the other," he said.
He added that among the many accomplishments adopted by China this year is a 12th five-year plan for national economic and social development which speaks to its overall domestic programme on economic growth and restructuring, innovation, environment and clean energy, agriculture, livelihood, social management and reform.
"In this world, China continues to demonstrate its commitment toward Latin America and the Caribbean, which was encapsulated in its Policy Paper of 2006, which provided for building and developing a 'comprehensive and co-operative partnership featuring equality, mutual benefit and common development."
The ceremony was followed by a reception held in the Ballroom at Mount Fitzwilliam.