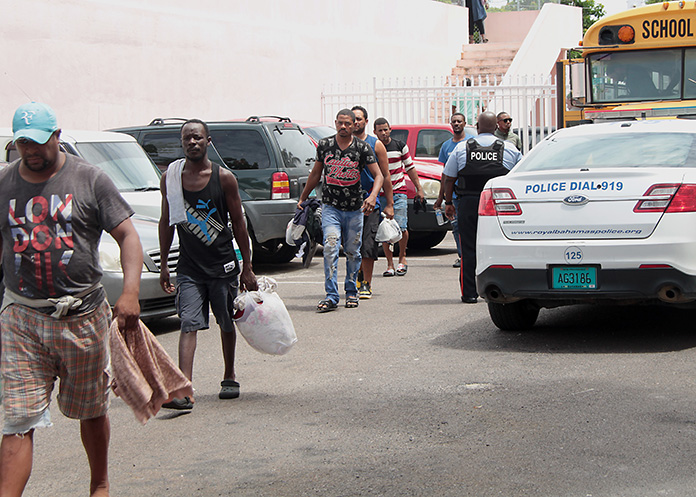 FREEPORT, Grand Bahama — The Bahamas Government is vigorously dealing with poaching in the northwest Bahamas, Minister of Agriculture and Marine Resources, the Hon. Michael Pintard said during a courtesy call at the Ministry for Grand Bahama, Friday, July 27.
As a result of poachers in the northwest and southeast Bahamas, new legislation is expected to be taken to Cabinet by the Minister for stiffer penalties. He said, "Poaching is now a fundamental issue we are now addressing vigorously."
Minister Pintard, along with executive members of his Ministry, were on island to tour various facilities and meet with staff.
Gregory Bethel, Deputy Director, Marine Resources said poaching has been an on-going issue, especially in the south eastern Bahamas, where there is the issue of Dominicans and Hondurans coming into Bahamian waters to fish.
"Fishing in The Bahamas is considered an exclusive sector for Bahamian nationals and Bahamian nationals only. So any fishing vessel fishing in our exclusive economic zone, must be 100 per cent Bahamian owned."
He said the law requires that any foreign fishing vessel fishing within the country's exclusive economic zone must first have a Treaty signed by the respective governments. To date, there are no such Treaties.
"As I indicated, in the south eastern Bahamas, there is an issue with larger commercial fishing vessels, mainly out of the Dominican Republic and Honduras.
"We have a similar issue in the north western Bahamas where we have whole lot of American sports fishermen who make the short trek over from mainly Florida and who go over their bag limits."
The Bahamas is dealing with commercial fishing in the south and sports fishing in the north; to combat the issue, the Government depends heavily on the Royal Bahamas Defence Force.
In the last budget period, however, the Department acquired a Marine Resources Patrol Craft, which is scheduled to arrive in October. In the new 2018/2019 budget, approval was granted for another patrol craft which is hoped will be located in the northern Bahamas.
There are also small go fast marine patrol crafts located in Freeport, Treasure Cay and Marsh Harbour, Abaco and New Providence.
Mr. Bethel said, "As we continue to develop, we continue to acquire the necessary resources to help in combatting illegal fishing, both by foreigners and locals."
The Deputy Director said he came to Grand Bahama earlier in the week to see about establishing a satellite office in McClean's Town, east Grand Bahama. There is an office in the Government Complex at the ferry dock, where the Royal Bahamas Police Force is also located.
Reports, he said, have come in during the closed crawfish season of philandering lobster out of the Sweetings Cay/Moore's Island areas.
"We are making every effort to try our best in combatting these issues," he said.