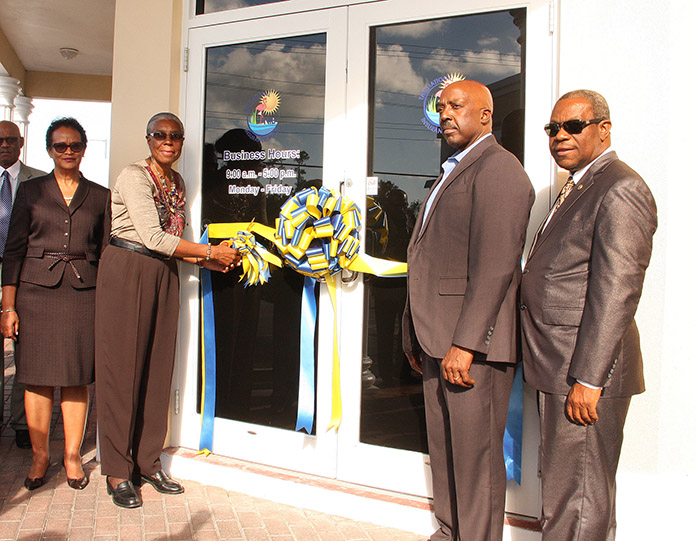 NASSAU, The Bahamas – Minister of Labour and National Insurance the Hon. Shane Gibson officially opened the Occupational Health & Safety Unit of the National Insurance Board to better serve clients with claims related to industrial injury and medical care.
The office, located in the fast-growing Carmichael Road area, is the sole sub office dedicated to also providing a range of operational services such as registration, verification, cashiers, submission of claims and the issuance of short-term benefit payments. It also provides for new NIB smart card enrollment.
This unit had outgrown its space at the National Insurance Board head office at Jumbey Village, Blue Hill Road. During the opening and dedication of the new office on Thursday, March 30, 2017, the Minister underscored the importance of the unit to the overall mission of NIB.
"As we mark the opening of this new location, we are reminded of our fundamental obligation to deliver excellence in customer service to those whom we serve. As this modernization takes place, it is important to not lose sight of that obligation, and that excellence in customer service should be the hallmark of all who work at the National Insurance Board," Mr. Gibson said.
He noted that in 2004, Prime Minister the Rt. Hon. Perry Christie stated: "There is nothing more important than a government that is able to design the framework to provide people [with] the basic necessities."
NIB has over its 42 years of existence expanded both its range of benefits and its presence to some 29 conveniently located offices throughout The Bahamas, with an office on every major island in the archipelago.
"The newest office, which we are here to dedicate, is unique as it is the only location to house the Occupational Health & Safety Unit, which addresses claims related to industrial injury and medical care," Mr. Gibson stressed.
He said as NIB continues to grow, part of its evolution is the modernization of the Information Technology system, aimed at ushering in a new level of transparency and accountability to the organization.
The minister reminded NIB employees that each has an important role to play in the efficient delivery of service excellence to its customers. "One measure of NIB's success is in meeting the customers' needs in a timely fashion – one customer, one benefit, at a time," he said.
The minister also charged employees to ensure that the service they provide each day at NIB is exemplary and that "customer service excellence" is not just a slogan, but also a habit.
"You are all stewards of this rich heritage that must be preserved to meet the needs of future generations, and as we dedicate this new location today, I take this opportunity to challenge you to serve with a renewed sense of commitment to the organization, so that through your work, NIB will continue to be a strong pillar of this country," Mr. Gibson said.
Also addressing the opening ceremony were Patricia Hermanns, Director, NIB and Felix Stubbs, Chairman, NIB. Pastor David Brennen of Christ Temple Apostolic Ministries performed the prayers of dedication and blessing.