The Ladies in Red…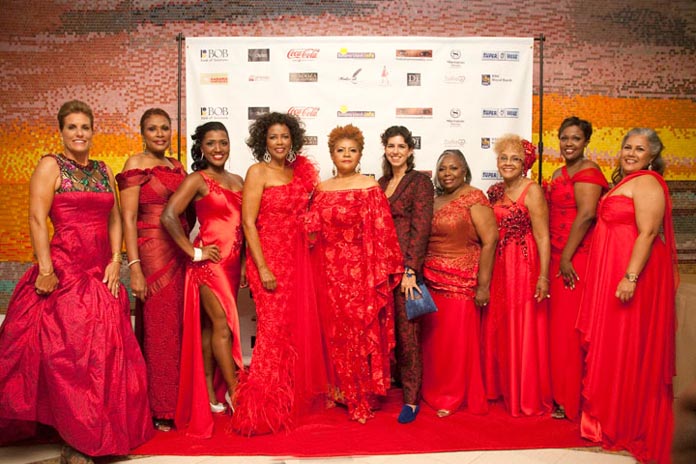 Nassau, The Bahamas – The organizing committee of the third bi-annual Red Dress Soiree is excited to announce that submissions for Leading Lady nominees are now being accepted.
Dubbed the glamourous giveback, the Red Dress Soiree is a high energy fashion event that honours exceptional Bahamian Leading Ladies and celebrates Bahamian designers, all while supporting the work of The Bahamas AIDS Foundation. The public is invited to nominate Leading Lady candidates based on their career achievements and contributions to society by visiting the official website www.reddressbahamas.com. Nominations accepted now through August 31.
The Bahamas AIDS Foundation is pleased to participate in the Red Dress Soiree 2016 as this event recognizes and celebrates the contributions of the many deserving ladies in our community," stated Camille, Lady Barnett, President of The Bahamas AIDS Foundation.
An independent selection committee of past Leading Ladies will select the 2016 honourees from the pool of nominees. The twelve selected Leading Ladies will be announced in October, 2016. Each Leading Lady will grace the runway in an haute couture red gown created by a talented Bahamian designer at the Red Dress Soiree gala event to be held Saturday, December 10.
"This year we are opening the nomination process up to the general public to ensure that the pool of nominees is diverse and encompasses women from various islands within our archipelago," stated Tyrina Neely, Founder and Director of The Red Dress Soiree.
This magical night will feature world-class entertainment, a gourmet meal and an expertly curated silent auction where 100 percent of the proceeds will benefit The Bahamas AIDS Foundation's work with adolescents infected with and affected by HIV/AIDS.
"Our goal is to create a fantastical night of luxury for our guests and wow them at every turn," stated Neely. "The Red Dress Soiree was launched after I had a chance encounter with a child infected with HIV and our aim has always been to celebrate him in grand fashion while supporting the work of the Bahamas AIDS Foundation."
The Red Dress Soiree has raised more than $40,000 for the Bahamas AIDS Foundation over the last two events.
"This year the Foundation will be the beneficiary of the Silent Auction. We encourage Red Dress Soiree patrons to support the Silent Auction as those funds will go directly to support our Outreach Programme for Adolescents Infected and Affected by HIV and AIDS," stated Lady Barnett.
For more information or to nominate a Leading Lady, please visit www.reddressbahamas.com.