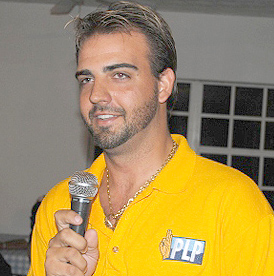 Nassau, Bahamas
— Bahamas Press is now "Politics Central" as a great election season becomes official as of today. We have been hushed due to the Lenten journey, but today we say Happy Easter and let's get the ball rolling.
We have spent considerable time up in the Northern sections of Eleuthera this weekend and from what we see, Clay is gaining serious momentum for a clean sweep in that community. His rise as the next Member of Parliament for the area has become such a reality the FNM goons like Abner Pinder has turned desperate; some tell us he is now smoking twice as many packs of cigarette.
We can tell you the old guard of the FNM has surprisingly dropped two previous candidates and is now fielding, Richard Lightbourne, an old guard of the UBP. The fact is laughable to the young who are BENT on electing the youngest candidate in the upcoming General Elections.
Clay represents CHANGE in the Bahamas. He is 25, he is ambitious, he is educated, he is from his community and he is PLP.
A 25-year-old resident of Spanish Wells tell us, "No FNM money could buy us; we ga take it nah, but we voting CLAY! And for the FNM to come up with an old guard like Lighbourne sickens us to the core. We are going with Clay, the Rock Star candidate whenever PAPA rings the bell."
Meanwhile we understand the Speaker of the House and current MP for North Eleuthera, Alvin Smith, is set to leave the country when his term is complete. Bahamas Press has been reliably informed, Alvin Smith, is moving to Toronto and is currently home shopping in the area.
He becomes the second FNM set to leave the country before Christie's Royal Commission of Inquiry.