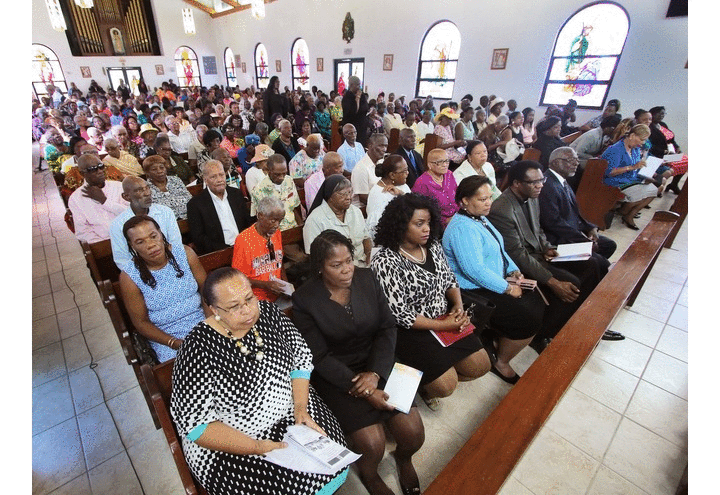 NASSAU, The Bahamas – Elderly persons from communities throughout New Providence were celebrated at a special church service and luncheon organized by the Ministry of Social Services and Urban Development along with stakeholders in commemoration of the United Nations 27th International Day of Older Persons and Older Persons Month 2017.
The seniors, who ranged in ages from 65 to 90 and represented urban communities and senior citizen centres, filled Christ The King Anglican Church, Ridgeland Park, to capacity as they jubilantly worshiped and praised in songs, prayers and scripture readings on Monday, October 23rd, 2017.
The theme for Older Persons Month is "Stepping into the Future: Tapping the Talents, Contributions and Participation of Older Persons in Society." Music was provided by the Urban Renewal Combined Senior Choir and the Department of Social Services Choir. Archdeacon James Palacious, Rector of Christ the King Church, also rendered a solo.
Acting Director Lillian Quant-Forbes, represented the Hon. Lanesha Rolle, Minister of Social Services and Urban Development.
Archdeacon Palacious, in his sermon, appealed to the seniors to positively influence the young people in their families and in the community, teaching them values of integrity, honesty, good manners, respect for elders and cleanliness.
He urged the elderly to let go of regrets and 'hurts in their hearts' including unforgiveness, bitterness and envy and encouraged them to nourish their bodies through exercise, eating right and positive thinking.
The service was followed by a luncheon in Christ the King's Parish Centre sponsored by the Department of Social Services Senior Citizens Division, and the Urban Renewal Unit.