Bahamian BTC Olympian rising track star is on top of the world!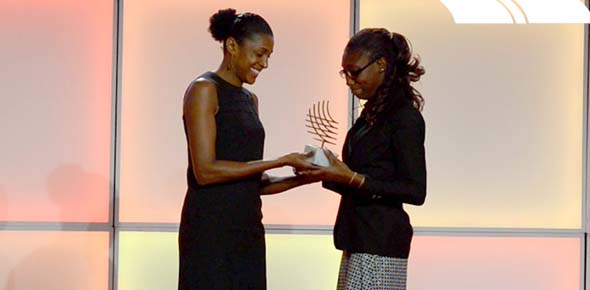 By Mark Humes, Bahamas Athletics
BARCELONA, Spain – The Bahamas's Antonique Strachan, 100 and 200 meter World Junior Champion, added another impressive title to her fast growing athletic resume when she was honored with the World Female Rising Star Award at the 2012 IAAF's Athlete of the Year Award Ceremony.
The junior athlete was one of a number of the track and field athletes and invited guests, including the Prince Albert of Monaco, who packed the Grand Ballroom of the Pullman Skipper Hotel for the special occasion that culminated with the naming of the 2012 Male and Female Athlete of the Year Award.
Strachan, who was the first female athlete in 12 years to win the 100/200 double at the World Juniors, said that she was surprised by the award.
Talking to the media, the 19 year old Bahamian said, "I thought I had been invited here to Barcelona to watch and be inspired. Allyson Felix said that she got the Female Rising Athlete of Year nine years ago, so I now have as my target to emulate here and come back to the gala in nine years' time and be the Female World Athlete of the Year."
Other winners of the afternoon included four-time Athlete of the Year award winner, twenty-six year old Jamaican sprint sensation, Usain Bolt, who picked up the honor once again. He was joined by first time winner, American Allyson Felix, who along with her American 4 x 100 meter teammates, also took home an award for Female Performance of the Year.
The Male Performance of the Year Award went to David Rudisha of Kenya, who lowered the 800 meter world record to 1:40.91 at the 2012 London Olympics. Aries Merritt, who was also nominated for Male Athlete of the Year, received the IAAF Inspiration Award, and the Male Rising Star Award went to another islander in Trinidadian Kershon Walcott.
Glen Mills of Jamaica walked away with the Coaching Lifetime Achievement Award; Kenyan Elias Makori won the Male Journalist Award; and Lyn Ventris of Australia and American Rob Lida took the awards for Female and Male Masters of the Year.