Local contractors – 100 construction jobs – International interest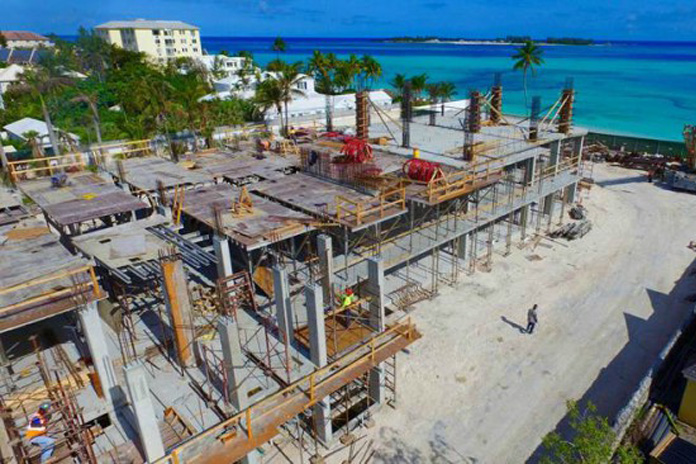 By Diane Phillips & Associates
Stunning views, state-of-the-art amenities and private beach access are becoming less of an architectural vision and more of a tangible reality as ONE Cable Beach progresses toward its 2017 delivery date.
"There is definitely more traffic on property with the construction activity," said Matthew Marco, Aristo Sales & Marketing Director. "People are excited to see this work of art come to life. Part of the third floor has already been poured and we expect a roof on the building by the end of summer with completion summer of 2017."
In addition to the boosting the local economy, the $70 million development is generating up to 150 construction jobs—the project is generating global interest in Nassau and The Bahamas.
"We are noticing increased interest out of Europe for permanent residency together with North American cities that have direct flights to Nassau," Marco said, adding that he and Aristo Development President and CEO Jason Kinsale are planning trips to London and Geneva in early April to generate further awareness and interest in the project.
Aristo Development has constructedover $50 million worth of real estate inThe Bahamas, including the family-oriented and young professional community of Balmoral, together with THIRTY | SIX on Paradise Island scheduled to break-ground this summer.
Located just west of Melia Nassau Beach Resort in Nassau, residences at ONE Cable Beach range from $575,000 for a one-bedroom, $695,000 for a two-bedroom and $4.75 million for a 3,900 square foot, 3-bedroom penthouse facing the sea. ONE Cable Beach features ocean and garden views, swimming pool, fitness centre, 24-hour security, storm-rated windows and oversized doors, high ceilings, and quality construction with the finest in finishing details.