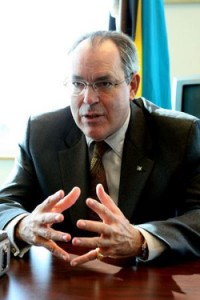 Nassau, Bahamas — Listening to Deputy Prime Minister Brent Symonette, the Minister with responsibility for Immigration, speak at his press conference today (as reported by ZNS) he must really think the Bahamian people a total fools.
In refuting claims that the FNM government is wholesaling citizenships to Haitian nationals for political reasons, he denied that the number of citizenships granted was anywhere near the number cited in The Punch and on Steve McKinney's HARD COPY radio talk show. Don't you think that Brent, as the Minister with responsibility for immigration, should have verified just how much citizenship have been handed out, if he claims the estimates that The Punch and Steve McKinney mentioned were incorrect? Certainly, he is in the position to KNOW what the true numbers are and he should have had those numbers available at his press conference.
Another thing that also bothered me was his claim that some temporary jobs were created to deal with the backlog of cases of immigrants seeking citizenship. When he mentioned that the temporary workers included "a college graduate," I wondered exactly what he meant by this condescending remark. Was he suggesting that the "college graduate" was more intelligent than the other temporary workers? If that's the case, then, on a matter as important as this, why didn't they hire all college graduates? Heaven knows that thanks to this worthless and uncaring FNM government, there are many college graduates who are unemployed in this country. But, I suppose, this was meant to impress us that the government is seriously attempting to clear up the backlog of applications for citizenship.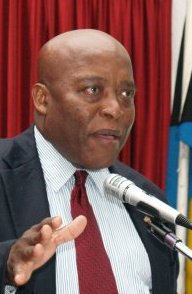 Keep in mind that this was a "top priority" of the FNM when they won the election in 2007. The then Minister in charge of immigration, Elma Campbell, who is now the country's ambassador to China, was very vocal in the press about the desire of the government to regularize those persons in the country who were entitled to citizenship.
Now some four years later this is still a "top priority" of this FNM government? What utter nonsense. Clearly, the only reason why there is now a mad rush to grant citizenships to as many Haitian nationals as possible is because the FNM believes this will help them win the next election.
Reports are that many of these new citizenships have been granted in Abaco, presumably because Prime Minister Hubert Ingraham finds himself faced with the strongest opposition he has had in political career. But while this political chicanery may help him in Abaco, it will not help the FNM nationally. The Bahamian people have had enough of his dictatorial leadership and they will demonstrate their displeasure in the next election by voting this worthless, uncaring, vindictive FNM government out of power.