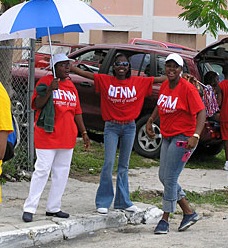 North Abaco, Bah — The Fnm party indicated that it would only have Branch openings for new candidates. However, they are feeling the effects of the Gold Rush taking over the Country, every branch is opening new and old candidates.
We are told that even North Abaco has caught the Gold ON THE SOLID GOLD TRAIN.
Papa Clown rushed to Abaco to hold a rally a couple of weeks ago and did the same in Golden Isles tonight. The Pillsbury Doughboy, Charles Maynard is under intense and sustained pressure from Michael Halkitis.
The pressure is so great, the Pillsbury was forced to bring out the old man, Frank Watson. We are told that Papa Clown himself went into Excellence Gardens with the Pillsbury Doughboy. Wow, it must be the Gold RUSH HITTING THAT AREA HARD 14Kt
Meanwhile closer to home, Bp has been advised by a Senior Member of the FNM's Central Command on Mackey Street, that Papa had to move one of his favorite "Yellow Brigade", Sandra Knowles and send her to North Abaco to assist him.
The Senior member told BP, "Sandra Knowles was sent to help out Vargo Laing in Fort Charlotte as his Campaign Manager, however, Papa Clown is feeling the Gold Fever in North Abaco. The Young Fella, Renardo Curry, is like a Bol Weevil, he just keeps coming."
Renardo Curry, the PLP Candidate is said to be making good head way as the young people in North Abaco are being afflicted with the Gold RUSH. Papa Clown may have miscalculated and more people have registered in North Abaco than he may have anticipated. He cannot meet all of these people and Curry can and has for the most part.
We are told by FNM Generals that the head pact leader of the "Yellow Brigade ", Sandra Knowles is on her way to Abaco to help Papa Clown. "Mini Me, Vargo Laing has been left on his own as Papa say "I may have to cut bait".
We are told that a car and an apartment are being provided for Sandra Knowles. It is being said that Papa Clown may have requested a copy of the registration list which contains phone numbers for voters. If this is true, we cry shame on him.
The Gold RUSH is said to be highly contagious and if Papa don't watch out, he may catch it as well.
We say to North Abaco, go for Gold, vote for a Party that puts people first.
We report YINNER DECIDE!