Officer's car was unlicensed and uninsured – WHAT IS THIS?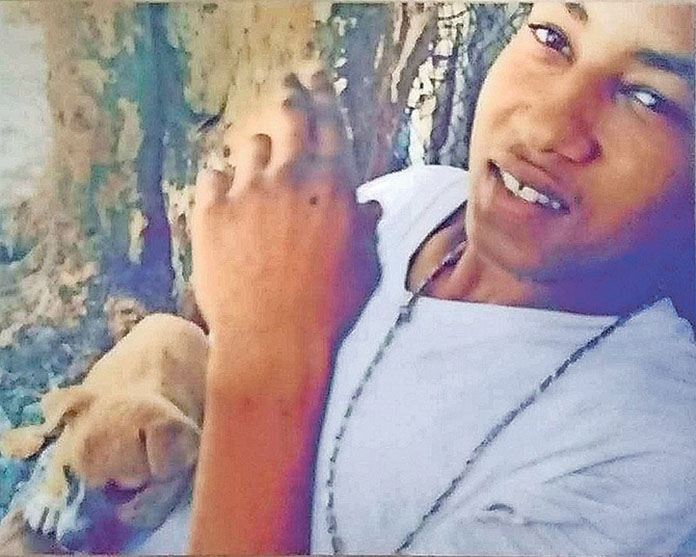 rrolle@tribunemedia.net
THE wreath marking his death sits atop a stunted tree on Tonique Williams Darling Highway, its presence enduring like his parents' pain and heartache.
Were he alive today, Phillip Daniel Clare Jr, 21, would be sending WhatsApp voice notes to his mother full of greetings like he did most mornings.
But he was killed on January 10, 2017, when an off-duty police officer, allegedly driving an unlicenced and uninsured Suzuki Swift, struck him as he crossed the highway.
Blunt force trauma to his head and upper extremities caused his death, according to a pathologist's report. He suffered multiple rib fractures and extensive haemorrhage.
Before his death, he had ordered a conch snack from Pressure Point, a bar and restaurant near his Yellow Elder home, and he was more than three quarters across the highway when he was struck around 7 o'clock that night.
Thirteen months since then, his parents remain distraught and are highlighting what they say was an inadequate investigation into his death.
If prosecutors do not press charges, they say they are willing to launch a private prosecution focused on the offence of killing in the course of reckless or dangerous driving. That offence carries a fine of $5,000 to $10,000 and/or up to four years in prison.
They have secured the testimony of a witness, Charles Swain, 62, a resident of the area who never gave his statement to police.
#Mr Swain said Clare was thrown about 75 yards from where he was hit that night. Because Clare's parents insist police took wrong measurements when they reconstructed the scene hours after he died around 10pm in hospital, this testimony of Mr Swain is significant, they believe.
"I saw (Clare) run across the first side of the road on the highway, then he stopped on the island in the middle of the two roads," Mr Swain told The Tribune. "I was sitting in front of a house and when the door opened I turned my head to see who was coming out so I didn't see the impact but I heard a bam, a loud noise, and I immediately turned back and saw a person flying in the air.
"I went and looked at the car and it didn't have plates on it so I said to the driver, 'my man, you ain' even licenced up and you knocked this man down like that?' He said the man was running across the road so I said, 'but you were speeding.' He said he wasn't. I said 'if you wasn't speeding how the gentlemen get all the way up here?'"
When available, surveillance footage is a standard component of accident investigations across the world, but Keno Lightbourne, the owner of Pressure Point, said police never requested footage from his establishment although he believes it could have shed light on what happened.
"I'm not surprised they didn't come," he said. "They should have pursued it more than they did to find out what really happened but they never do. Three weeks ago, another person was killed on this road but they didn't request the video then either, but when a (shooting incident) happened across the road they came and asked for the video."
In a report six months after the crash, police said the driver of the Suzuki Swift described Clare as wearing "dark coloured clothes" that night, but the footage from Pressure Point's surveillance camera, seen by The Tribune, showed the deceased in a burgundy hooded sweater and long beige pants.
Another business in the area, a beauty salon, reportedly had surveillance footage as well but kept it only for seven days after which it was automatically erased; neither Clare's parents nor the police obtained the footage before its erasure.
Phillip Clare Sr and Tanya Reckley claimed a senior officer at the Royal Bahamas Police Force's (RBPF) Traffic Division told them the day after their son's death the incident would be ruled an accident.
"Less than 24 hours later you're going to tell us nothing is gonna come out of it?" Mr Clare Sr said. "I don't know how that works. I was in the towing business for almost 30 years so I could tell anyone about accidents and what caused them and I can tell you speed played a role in this accident."
The parents fume that an officer was involved in their son's death and are convinced their matter has not received a proper hearing.
"I said to the senior officer who told us it would be ruled an accident, with the driver being an officer and you being an officer, how can I feel I'm going to get justice?" Ms Reckley asked. "You don't know what I go through even now, a year plus and I'm still always crying because I miss my son."
Mr Clare Sr contrasted the handling of his son's case with that involving a woman who was recently fined $12,340 after pleading guilty to a hit-and-run incident while driving an unlicenced and uninsured car.
He also contrasted the handling of the case with that of deadly traffic incidents last week involving people who have since been detained by police, although crucially, Clare's case does not have a hit-and-run component.
Ms Reckley said she was at church when her son was struck, mystified as to why there were eight missed calls on her phone.
Mr Clare Sr was with former schoolmates at a party.
Ms Reckley said she listens to her son's old WhatsApp notes to soothe her sadness these days while Mr Clare Sr visits his room, hoping for a connection.
"The room is him," he said. "I just go in the room and look."
Despite their coping mechanisms, it is a sense of justice that eludes them.
Compounding matters, they said, is the driver involved in the crash never reached out to discuss the incident or offer condolences.
The driver did not respond to The Tribune's request for comment on Facebook before press time.
"All I want is justice for Phillip," Ms Reckley said. "No one is getting what I am feeling. My child was knocked down and they're like, it's finished, we'll just get over it. How can we get over it?"
#Deadly incidents, of course, are not uncommon on Tonique Williams Darling Highway. Nine months after Clare's death, his father's 28-year-old nephew Christian, an occupant of the same Yellow Elder house, was killed on the same road, one of four people killed in traffic incidents on that highway in the last 15 months.
Officer-in-charge of the Traffic Division, Craig Stubbs, told The Tribune last week he sympathised with Clare's parents but dismissed their references to the surveillance footage, saying it would not have detected the speed of the car on the highway.
"The physical evidence on the scene would have suggested he walked into the path of the car after patronising a local licenced premises," he said.
He noted, however, that killing in the course of reckless or dangerous driving is one of the "primary charges" brought when deaths occur on the road.
As for the purported witness, he said: "The (parents) said things when we met with them more than once and their concerns were raised. If they had a witness, they had a duty to bring it up. They didn't."
Clare's parents denied this, however, insisting they made police aware of their witness.
Chief Supt Stubbs said Clare's parents were told the matter had been referred to the Coroner's Court. Though that court would be an atypical jurisdiction for traffic incidents like this one, he said cases are sent there when "we have a pedestrian and where we deem that the pedestrian was someone careless in their use of the road. It would be sent there after consultation with the (Office of the Attorney General)."
A police report seen by The Tribune that Chief Supt Stubbs signed last July, six months after the crash, made no mention of the case going to the Coroner's Court, however.
The report said: "The police are continuing the investigations into this matter and are looking forward to arriving at a conclusion soon."
Clare's parents believe talk of an inquest has emerged now because questions are being raised about the episode.
They insist they were told on two separate occasions, once in person and once through their lawyer who contacted the Traffic Division, that the matter was ruled an accident and no criminal charge would be filed.
Over the weekend they said as recently as Friday their lawyer spoke with a Coroner's Court representative and was informed no case involving "a Clare" had been sent to it.