Man on Bail for serious crime in Canada with ankle bracelet on – out of the country and free to murder – again!!! – Suppose that was a bomb packed on the ankle?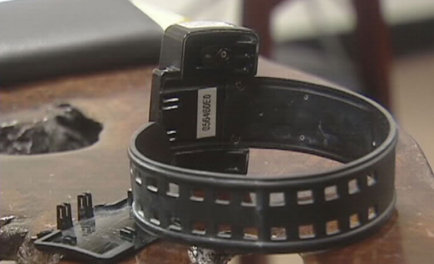 Authorities say judge allowed suspect out of the jurisdiction with bracelet on – UNBELIEVBLE!!!
Nassau, Bahamas — Now here a is great story published in the Tribune yesterday, where it is revealed that a man granted bail in the Bahamas and fitted with the ankle bracelet showed up in Canada.
Unbelievable!
Authorities cannot explain the situation and from the looks of things something rots to the deepest part of hell in this situation.
They have yet to tell us in media what happened here other than ICS Security, the operator of the ankle bracelet system. The company suggested that the man held by Canadian authorities was given a letter by some family island court, which give him on bail the right to travel.
This cannot be true, but we can only go with what they tell us. One must then question why would a judge – who is supposed to be smarter than this – would put a monitoring device on a suspect and then send him into another jurisdiction where he cannot be monitored. Someone must explain that!
Last month, Minister of State for National Security Keith Bell said the government intends to review the electronic monitoring system and its management company over an "unacceptable" number of breaches. A number of suspects released on bail with the program have showed up dead. In fact, just last month a man was found dead in the South Beach Canal area, after being missing for days. It is believed he was dead in the area for seven days without detection by the contracted bracelet company.
WHAT IN DA HELL IS THIS?
Minister Bell said, "The question one has to ask (is this) the government spending a substantial amount of money for this? We know that in excess of 400 persons are on the system, we know for a fact that as part of the contract, even if a person is on the system and rearrested, the government is being continuously billed for the bracelet.
"The fact of the matter is the government has invested in it and the responsibility on (ICS) is to ensure that there are no breaches.  Either you do it or you can't. This is not the first, definitely not the second; we've had a number of persons who were either found murdered on the ankle bracelet system, or they were targeted, or they actually went out there and committed more crimes."
Bahamas Press is wondering what international embarrassment is this! You find a suspect – you grant him bail. You put a bracelet on him to detect his whereabouts and make sure he signs into the station – yet that same suspect is given a letter to leave the jurisdiction without detection at the Lynden Pindling Airport and ends up in Canada? Well who in the hell is monitoring him there where some witnesses are hiding out until trials?
Boy this some – yinner know what we want say!
We report yinner decide!