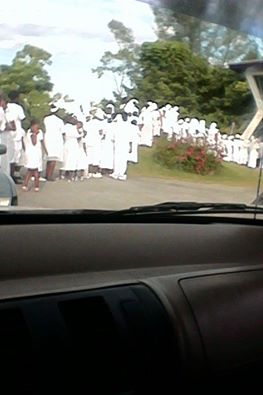 Could this be another Jim Jones operation in the Bahamas?
Nassau, Bahamas — Alexander James, BP's senior editor, is right now outside Dr Roop's clinic in Freeport, Grand Bahama. The holistic and natural medicine doctor is said to be giving away one million dollars this morning. These are live shots outside the clinic with hundreds of men women and children, all waiting for money and dressed in white. We understand even police officers are in queue waiting for money.
The said doctor, we understand, says some of the craziest things on his platform like "…some a yinner need to get off yalll F@#@IN BONGIE…."… This looks like another Jim Jones line. We hope no Koolaid is being served here.
Ya think these people will do the same if this was a worship service on a Sunday Morning? THE GOD OF MONEY GAT PEOPLE DOING SOME OF THE SILLIEST THINGS EVER! BP IS LIVE….