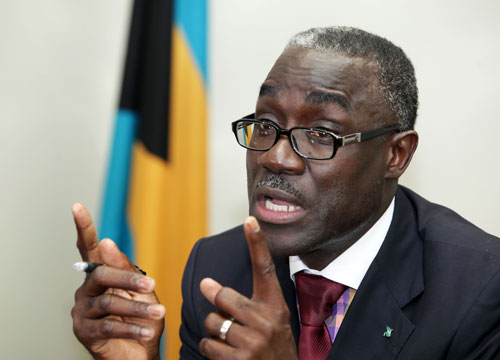 Nassau, Bahamas – Director of Religious Tourism Dwight Armbrister at the Ministry of Tourism said recently that the department is always working on several different projects simultaneously to bring more exposure as well as visitors to the Islands of The Bahamas.
During a press conference at the Ministry of Tourism, Mr. Armbrister said, "Fundamental to that task is for us to keep our messages, events and programmes constantly in the face of the travelling public.
"We are doing that by way of the many media outlets such as TBN, Impact Network, 3ABN, the Dare to Dream Network and all of the social engines that are employed by the Ministry of Tourism."
He added, "In the recent past, we in the Religious Department have been been on the ground selling The Bahamas to large groups such as the National Baptist Convention U.S.A., Southern Christian Leadership Conference, 1,000 Churches Connected, The Rainbow Push Coalition, with Rev. Jesse Jackson and the SDA Conference. We are also talking with the Stellar Awards Company for them to use The Bahamas as the place for their events."
He explained that for the past 10 days, The Bahamas was at the centre of discussions on the Impact Network whose viewing audience is some 30 million.
American personalities such as gospel singer, Dr. Bobby Jones; Founder and President, Impact Network, BishopWayne T. Jacksonand others talked about The Bahamas being the destination of choice.
Mr. Armbrister also noted that TBN recently held its Praise the Lord Programme on Grand Bahama for two hours. During the programme, the beauty, culture and different sights on the island were highlighted for millions of viewers around the world.
"Altogether these initiatives will do well for our country in creating the many impressions for millions to see, and so they are now in a good position to make The Bahamas their choice destination or the place for their next event."
He said starting Sunday, October 19, Fam Fest will begin and there will be a number of international recording artists that will be in town for that event.
Also, Impact Network, which was launched in The Bahamas on November 2013, will have its conference in The Bahamas in October 2015. Mr. Armbrister said it is expected that 2,500 persons will come for that conference, and that alone should bring in an excess of $1 million into the country.
He said his team has been working on bringing such conferences to the Islands of The Bahamas. "When we are talking about large conferences, you are talking about conferences that are in excess of 40,000 or 50,000 people attending.
"We are not able to accommodate the 40,000 or 50,000, but we can accommodate the 3,000 or 4,000 that would come for their Winter Board Meeting. So that is what we are selling."