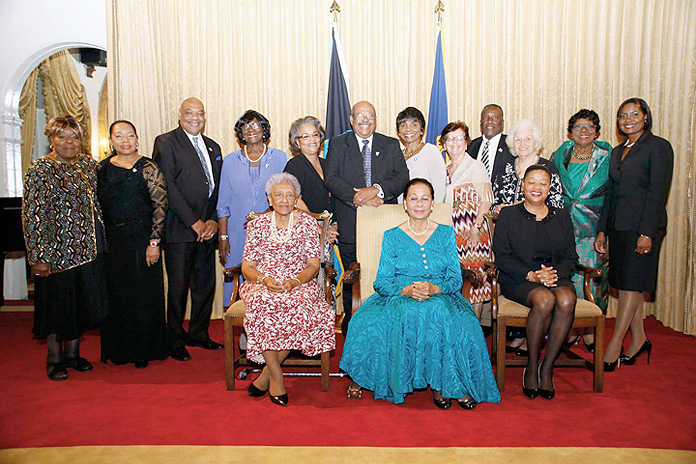 Nassau, Bahamas — Forty years after Sir Clement T Maynard introduced the Bahamas Ministry of Tourism's innovative People-to-People program, several veteran ambassadors were awarded at Government House for decades of service in the programme, which has been adapted as a regional model.
People-to-People is a voluntary programme that connects visitors with Bahamians who share their homes, delicious Bahamian meals and unique experiences with guests.
The programme has grown tremendously over the last four decades and boasts over 500 volunteers throughout the Islands of The Bahamas, fulfilling the former Tourism minister's dream of having a robust cultural exchange program.
At the award ceremony, Senior Director of National Planning and Special Events in the Ministry of Tourism Carla Stuart explained why the honourees should be admired.
"Your undying love for this country and the sacrifices that you have made over the years to ensure the satisfaction of our visitors is what makes us say this. When we look at each of you and the contributions that you have made, we are always grateful. We know that the greatest resources in this country are our people. Visitors to our country enjoy at our attractions and thrill at the natural beauty of our islands but what they remember long after they have gone is how we have made them feel," she said.
"Having sat with many of you, we know that you give everything to make sure that our visitors are comfortable and satisfied with this country we call home. You serve as the extended arms of our ministry. You are the front-runners for ensuring visitor satisfaction."
James Bostwick has been in the programme 32 years and says it has been a rewarding experience.
"I would not give that up for anything in the world. The moments that I have shared with people, the quality time that I have established with people, the lessons that I have learnt from others and the same thing that have given them have all made it worth it," he said.
"This programme is truly a God-sent programme. We have basically provided service to individuals and to be honest if every Bahamian could participate in this programme they would find and learn that this is a growing experience."
Mr. Bostwick like the other honorees were recognized by Governor General Dame Marguerite Pindling.
"To be recognized at such a level tells me that I'm in class with men who do equally great things. The People-to-People programme gives you the opportunity to exchange knowledge. You simply learn what they know and they learn what you know," he said.
Sheila Newchurch-Rolle has been in the People-to-People programme for the past 35 years.
She said being rewarded was "a bundle of joy".
"I have a book with hundreds of names over the years and addresses. It was a pleasure entertaining and getting familiar with foreign visitors. I have travelled all over the world and lots of them have given me invitations to come to them and they have came here," Mrs. Newchurch-Rolle said.
"I hope all of us remain one big family and with this People-to-People programme."
People-to-People ambassador Anthia Butler has been in the programme over the last decade.
She said the programme is an awarding experience.
"It's an incredible feeling to be here and to see the work of my peers in the People-to-People programme. These individuals have been in the programme for many, many years they welcomed people into their homes, churches and into our communities and so it is really, really special to be here and celebrate with them," Ms. Butler said.
"What I love most is sitting at their feet and being able to learn from them. I would definitely encourage young Bahamians to get involved and be a part of this programme because we always want our voices to be heard and this is an incredible opportunity to do that. The older generation is willing to pass on incredible knowledge and they understand what tourism means in this country."