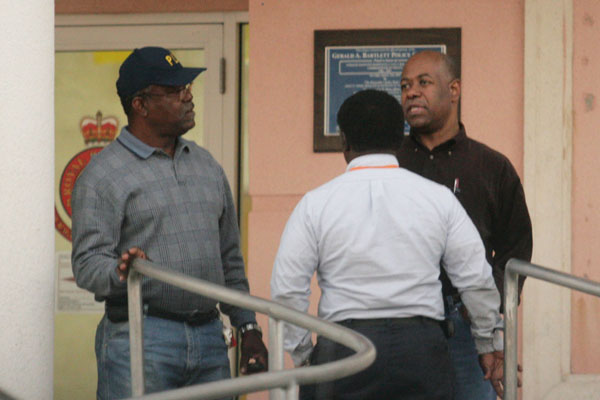 CLICK TO LISTEN TO CNN REPORT!
If there is any possiblity of the Ingraham government being a part of a conspiracy against opposition PLP members jailed today, perhaps these photos can tell us something. Possibly Bahamas Press is on to something again.
Late this evening the Deputy Director of Bahamas Information Service Sharon Turner, an official photographer for the Prime Minister Hubert Ingraham and the official webmaster of the Free National Movement Party's website emailed (via her private email) to members of the WUTLESS MEDIA these photographs of Obie Wilchombe, who was arrested earlier today by members of the Gestapo Royal Bahamas Police Force in The Bahamas.
Bahamas Press has learned that Wilchcombe was released late this afternoon as police continues their investigations in to an alleged extortion investigation toward the Travolta family. We've received a copy of the transcript that was sent to the press by Turner which also requested, "NO BY LINE" for the photos used.
What is equally amazing was the quick and short response by the PLP Party Leader Perry Christie. Again Bahamas Press asks, can Ingraham and Christie be doing all this to shame the Bahamas and in the process destabilize the PLP? Perhaps the photographs sent to members of the WUTLESS MEDIA can be the opening of a can of worms.
The photos above and below show the opposition for West End and Bimini Obie Wilchcombe (black shirt) standing outside the Gerald Bartlett Complex (Police Headquarters) on Grand Bahama Island with supporters, after being released by police late this evening.
(Photos supplied by Sharon Turner/ BIS Deputy Director and FNM Webmaster)